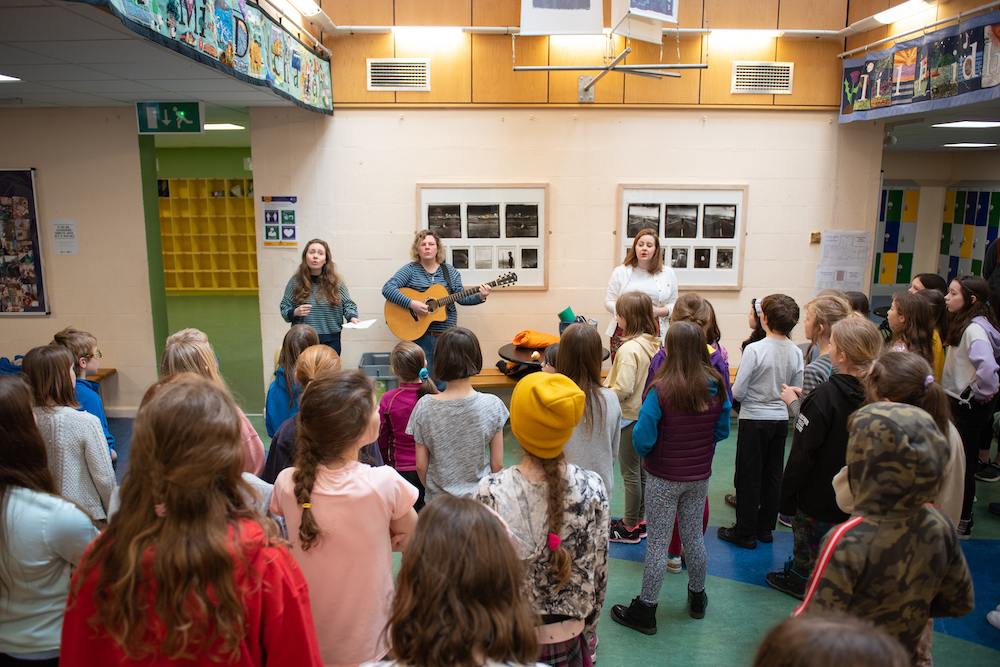 Ullapool will host Fèis Rois' annual five-day residential traditional music event for young people once again next month, with some new changes to the popular music week.
Taking place in the October holidays, the Youth Fèis (Gaelic word for festival) runs from Monday 16th – Friday 20th October, and young people in P4 – S6 can choose to participate in a range of daily music classes including various musical instruments, Gaelic song, drama and art as well as participating in a range of cèilidhs, concerts and evening activities.
Previously the October event was only open to secondary pupils, however primary 4-7 are also able to attend this year. The changes were made to offer all children and young people two opportunities to attend a Fèis week throughout the year; the Easter Fèis is now a non-residential week in Tain, Dingwall and Ullapool and also open to P4-S6. Parallel timetables and classes at beginner, intermediate and advanced level means there are appropriate classes for all ages and abilities.
Tutors this year include a host of well-known musicians from across the Highlands and Islands, including former Fèis Rois participants, piper and accordionist Mairearad Green from Achiltibuie, Dingwall Gaelic singer and clarsach player, Katie Mackenzie and whistle player and singer Kim Richards from Ullapool; fiddle player and guitarist with Treacherous Orchestra, Innes Watson; Piano player and BBC Radio Scotland Young Traditional Musician of the Year 2023, Amy Laurenson; actor and drama tutor, Artair Donald, who has just finished a two-year full-time residency with Fèis Rois, which saw him lead drama workshops in Gaelic schools and units across the Highlands; accordionist Carol-Anne Mackay; guitarist and producer, Barry Reid; multi-instrumentalist, composer and producer, Mike Vass; artist Kevin Andrew Morris; and fiddle players, Patsy Reid, Robbie Greig and Anne Wood.
Christian Gamauf, Creative Producer, Fèis Rois, commented: "We are looking forward to another five-day residential week in Ullapool next month. This year we have changed the format very slightly to allow more age groups to attend in October, as well as another chance to come in April next year, meaning double the Fèis Rois experience for everyone! Our October Youth Fèis provides young people with a fantastic musical experience and we are excited to hear them make music together.
"With classes in fiddle, guitar, Gaelic song, clarsach, art, pipes and chanter, whistle, ukulele, keyboard, accordion and drama, we hope there is something for everyone –  it is a great opportunity to try an instrument for the first time! Some of our tutor team are former participants of this event, which we hope will inspire the next generation. We strive to ensure that everyone has the opportunity to attend Fèis Rois classes and residential events and we have made it possible to pay for places in instalments whilst there may also be support for lower income families from the Highland Children's Trust."
"Our weekly classes have also started back up so if anyone wants to start an instrument before the October Fèis, or even continue learning an instrument afterwards, this is the perfect way to do it! Our weekly classes are all in Dingwall and we have fiddle, accordion, guitar and clarsach classes, for all ages and abilities."
Bookings can be made on the Fèis Rois website, where all the event information, including daily timetable, tutor list and cost details, can be found. Residential and non-residential places are available and free instrument hire, if required, is also included. For more information about this year's October Youth Fèis and weekly classes, please visit www.feisrois.org.
Follow these topics: News, Newsletter