Hands Up for Trad's Trad Music Spotlight is a monthly feature on a band or solo artist. It was first launched in February 2015 and features musicians who are working in the trad scene – both in Scotland and around the world. We asked The Poozies a few questions.
What's happening?
We have a new line-up . Joining myself and Eilidh Shaw we have the wonderful Sarah McFadyen from Hoy and the incredible Tia Files from Oban. For the first time we have no accordion player. However, we do have two fiddles and also for the first time, a banjo! I can't tell you how excited I am. In addition Tia, who can play everything except the harp (hah) will be adding some interesting foot percussion to supplement Eilidh's normal right foot drumming.
Tia has also made a couple of videos for us – there is no end to her abilities! Filmed and recorded in Argyll. Check them out on our website.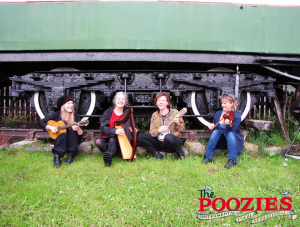 When was the band formed?
We started in 1991 (last century!!) and have been through a few metamorphoses over the decades.
http://www.poozies.co.uk/media_gallery_videos_photos/
What excites you about performing Scottish music?
Scottish music has such a wide repertoire to choose from – from Gaelic work songs and laments to lowland ballads from rousing reels to pipe 2/4s – it's all there. We are also very keen to play new music. We all write tunes and it's a particular joy to find and play tunes and songs from our contemporaries. Mention must be made here of Sandy Wright who has written some cracking songs.
What's next for you?
We are working on a brand new set and discovering how the new line up works which is a lot of fun.
We have some festival bookings for the summer – check out our lovely new website for more information.
And of course, we will be heading to the recording studio in the near future.
Read more about The Poozies at their website http://www.poozies.co.uk
Follow these topics: News, Newsletter, Spotlight