Hands Up for Trad's Trad Music Spotlight is a monthly feature on a band or solo artist. It was first launched in February 2015 and features musicians who are working in the trad scene – both in Scotland and around the world. We asked Kirsty Law a few questions.
What's happening?
I am currently releasing my brand new audiovisual album project, 'Young Night Thought', produced by Ben Seal.
Named after a small Robert Louis Stevenson poem, Young Night Thought is a new album of original contemporary folk, released with an accompanying short film by Daniel Warren and triptych of oil paintings by Kirsty Whiten.
With songs written in both Scots language and English. Joining the band line up of Esther Swift on pedal harp (Twelfth Day, Unthanks 'Mount The Air'), Owen Curtis Williams on drums (Withered Hand) and Catriona Price on fiddle (Fara, Twelfth Day, GRIT Orchestra), the album also features special vocal performances from Jarlath Henderson (Capercaille, Michael McGoldrick band), Carla Easton (TeenCanteen) and an exciting co-write/duet with multi award-winning singer songwriter Karine Polwart.
Young Night Thought Has been a highly collaborate creative process, a song-maker, a filmmaker and a painter, each one's practice feeding into the creativity of the other, whilst – through a lens of Scots folklore – sharing a dialogue around childhood perception, imagination and play. And, as the project progressed, seeing how songs, stories and images from throughout time can lead us to rediscover this part of ourselves in adulthood.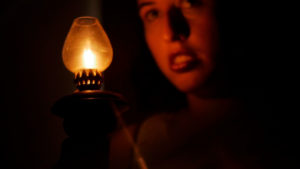 When did it happen?
Once the seed of this idea came to my mind, my first port of call was recorder producer and engineer, Ben Seal (Bella Hardy's 'With The Dawn'). Ben is a technically brilliant engineer and creative force who could help me bring these plans into the real world. Then, last year, after a lengthy creative process with Daniel and Kirsty W, followed by a wonderful time recording at Ben's studio, The Piggery, the trio (myself, Esther Swift, Owen Curtis Williams) were invited by Ian Rankin to come and perform some of the new material as part of 'A Night For Rebus' at Edinburgh's Queen's Hall. The first official performance of the 'Young Night Thought' launch tour will be at The Voodoo Rooms in Edinburgh on 8th March with support from Urban Farm Hand.
What excites you about performing Scottish music?
In this project I have enjoyed drawing on the rich traditional Scots culture by which I am surrounded in order to create something new. I have relished the challenge to write contemporary songs in Scots language. As well as all the brilliant Scots writers that I filled my head with in all the research I did, I have been lucky enough to have received guidance and advice on this topic from great writers James Robertson and Harry Giles.
Getting to work with the musicians that I have has been a dream. From Esther Swift – whose pedal harp playing and harmonic sensibility is highly contemporary and quite unlike any other, then brilliant traditional musicians such as Jarlath Henderson, Rona Wilkie and Marit Falt (who took part in stage 1 of the project's development) – as well as someone like Owen Curtis Williams who is a particularly musical and expressive rock and indie drummer – to bring all of these Scottish musicians together in this way was very exciting.
Writing wth Karine Polwart was a particular treat. Her songwriting and treatment of traditional Scottish material is something I have admired for many years and getting to share the creative process with her was a privilege. I'm very proud of what we achieved with our song 'Underneath The Sycamore', which is a contemporary take on traditional ballad 'Bessy Belle and Mary Gray'.
What's next for you?
I am excited to take Young Night Thought to as many different places as I can. Our up coming tour is UK-wide, in vary venues from contemporary arts centres to village halls and rock clubs. I'm delighted that the songs from the album have already reached out through the radio waves to varying audiences – many that would not normally listen to Scots language/Scottish folk music, or vice versa, to audiences who would not normally include many albums with synthesisers, bass and drums in their collection. It's always the most exciting when your music makes it into places that are unexpected.
Read more about Kirsty Law at their website http://www.kirstylaw.com
Follow these topics: News, Newsletter, Spotlight