Hands Up for Trad's Trad Music Spotlight is a monthly feature on a band or solo artist. It was first launched in February 2015 and features musicians who are working in the trad scene – both in Scotland and around the world. We asked Kim Carnie a few questions.
What's happening?
Well, I'm just home from a nice trip to Mexico. I'm planning on heading back later this year. So, I've started learning Spanish.
Musically though, I've recently left my post at the BBC as a presenter to go freelance. Although I'm still presenting, this move has given me the time I want to focus on singing. I've been writing new songs and working on new material with the band, which I'm looking forward to playing over the next few months.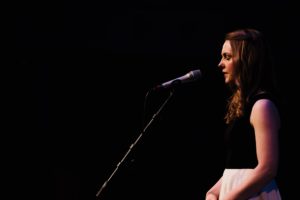 When was the band formed?
Myself and Innes have played together since we were teenagers. The first time Megan and I sang together was back in 2014 for a Common Wealth Games commission – a very intense and beautiful 6 week project which had two on-site performances on the shores of the Isle of Canna. I've known since then, when I finally got around to getting a band together, that I'd love to keep singing with them both. Euan and John joined in early 2017. I really love playing with these guys.
What excites you about performing Scottish music?
I love being taught old songs. The Gaelic tradition is passed down from one generation to the next orally and I love that. Taking these old songs to my band and re-imagining them in a contemporary Gaelic music context is a lot of fun too.
What's next for you?
We have some nice festivals over the next few months. First festival for us is Killin Music Festival. Another wee project that I'm looking forward to is a gig with Gaelic singers Kathleen MacInnes and Mischa MacPherson and Ali Patterson on keys. I love singing in harmony, especially with other female voices. So I'm really looking forward to that.
I've recently recorded for a video game, The Bard, produced by Ged Grimes (Simple Minds). That'll be coming out later this year. Other singers on the game include Fiona Hunter and Kathleen MacInnes.
Netflix's Outlaw King is also due to be released this year which I am singing in (and doing my best at 'acting'..).
I'll also be on Kid Canaveral's David McGregor's album launch tour in the autumn. I recorded a couple of tracks on his new album, it's a pop album and it's sounding really great.
Read more about Kim Carnie at their website https://www.kimcarnie.com/
Follow these topics: News, Newsletter, Spotlight