Hands Up for Trad's Trad Music Spotlight is a monthly feature on a band or solo artist. It was first launched in February 2015 and features musicians who are working in the trad scene – both in Scotland and around the world. We asked James Duncan Mackenzie a few questions.
What's happening?
I recently launched my second solo album 'Sròmos' during Celtic Connections Festival in Glasgow. The album was recorded by Iain Hutchison in Gloworm studios in Glasgow, with John Lowrie and I co-producing. The album consists entirely of new music which i've been writing over the last few years lead by wooden flutes and Highland Bagpipes. The album features a number of great guest musicians and the instrumentation includes: bass, drums, acoustic and electric guitars, rhodes piano, piano, mandolin, banjo, fiddles and melodeon. The album is available to purchase via:
www.jamesduncanmackenzie.bandcamp.com
For the live gig I put together a 7 piece band and it was a joy to share the stage with so many great musicians and to hear my tunes being brought to life on a live gig.
I also performed at Celtic Connections with 'Tryst' a 10 piece bagpipe composers group for the opening gig which celebrated the festivals landmark 25 years.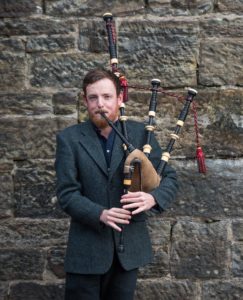 When was the band formed?
I started learning chanter when I was 8 years old. After leaving School in Stornoway, I went to the UHI Benbecula college where I studied for an HNC in traditional music before moving to Glasgow and studying at the Royal Conservatoire of Scotland (formerly the RSAMD)
While I was in 1st year at uni, I entered in for the BBC radio Scotland Young Traditional musician of the year competition and reached the final. My first ever tour was the TMSA Young Trad Tour later that year where we toured around venues in Scotland for a couple of weeks.
After leaving uni, I joined Breabach and have been playing and touring with them ever since. I also released my first self titled solo album in 2013.
https://jamesduncanmackenzie.bandcamp.com
What excites you about performing Scottish music?
Its excites me that the Scottish music scene is so thriving at the moment. There are more new bands appearing all the time and new music being composed and performed which keeps things new and exciting. There are so many touring opportunities which is also exciting as its always a pleasure and an education to visit and tour in countries which i've never visited before and which I might not have had the chance to visit otherwise.
What's next for you?
Im just about to head off on tour with Breabach for some shows in England before travelling to Kansas City to showcase at Folk Alliance next weekend and then we're heading out to Australia in March where we'll be touring for a month. I also hope to play some more gigs later in the year with my solo project.
Read more about James Duncan Mackenzie at their website http://www.jamesduncanmackenzie.com
Follow these topics: News, Newsletter, Spotlight