Hands Up for Trad's Trad Music Spotlight is a monthly feature on a band or solo artist. It was first launched in February 2015 and features musicians who are working in the trad scene – both in Scotland and around the world. We asked INYAL a few questions.
What's happening?
We've just finished recording our debut album with the help of the exceptionally talented and endlessly patient Mattie Foulds, which will be released early in 2018. It was a really exciting process and we're excited to let people hear it.
Visiting festivals around the country has been a great way to end the summer, and our final gig for the next few months is in Glasgow at the Old Hairdressers on the 5th of October. It's part of the brilliant Folklub, and we'll be playing alongside Tannara, with Robbie and Owen putting in a double shift playing in both bands.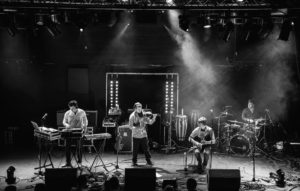 When was the band formed?
The band started in early 2016 when we were asked to take part in 'Baile air Bhoil', a concert organised by Oilthigh Ghlaschu, alongside the Elephant Sessions and Niteworks. Josie joined the band later, after we were asked to arrange several Gaelic songs and present them at Celtic Connections. Since then she has joined us for all our concerts, which has been a great addition to the set.
What excites you about performing Scottish music?
The increasingly high calibre of young bands practicing Scottish music is a testament to how much thought is being put into reimagining the music and presenting it in a new context. It's very satisfying to be able to contribute to this in any way we can, and it leads to a very exciting musical landscape, one which challenges you to push yourself creatively.
What's next for you?
We're particularly looking forward to touring in support of the album at the beginning of next year. It will be good to perform in some places we've not been to yet, and finally get the album into people's hands.
Read more about INYAL at their website http://www.inyalband.com
Follow these topics: News, Newsletter, Spotlight