Hands Up for Trad's Trad Music Spotlight is a monthly feature on a band or solo artist. It was first launched in February 2015 and features musicians who are working in the trad scene – both in Scotland and around the world. We asked HEISK a few questions.
What's happening?
We have recently launched our debut track VIRR which was recorded by Mattie Foulds at Caribou recording. We had a great day there and especially enjoyed the company of Rocco the studio dog. We released this track as a music video which was filmed by Hamish Macleod. Our idea behind the video was to make it colourful, fun and punchy, matching the vibe that we went for during the band's photo shoot with Somhairle Macdonald using powder paint which was loads of fun (and incredibly messy) (N.B it will stain your shower). We will also be releasing another track soon so keep an eye out for that.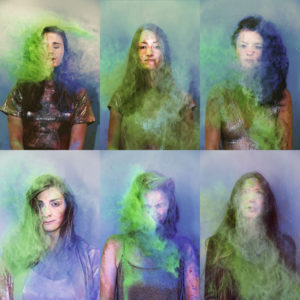 When was the band formed?
The concept for the band was born, like many wild ideas, in the early hours of a Sunday morning at the Celtic Connections Festival Club. Becca and Catriona discussed their mutual love of fun and dancing, and shared their secret desire to play in a band with a string section. There was also talk of a brass section and backing dancers… so watch this space!
We'll be out and about gigging soon, so keep an eye out on our Facebook page, and for now check out our video!
What excites you about performing Scottish music?
It's a really great time to be part of the traditional music scene at the moment. Artists are experimenting with folk tunes and songs, taking influences from other genres, and we are really excited to explore this within our own music.
What's next for you?
We'll be releasing the full track we recorded at Caribou soon, and will be gigging throughout the year. We're really enjoying writing and finding new music and are really excited to share it all!
Read more about HEISK at their website https://www.facebook.com/heiskband/
Follow these topics: News, Newsletter, Spotlight