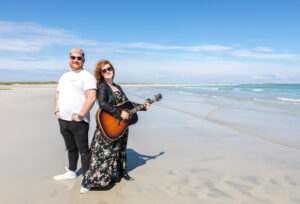 Tiree Music Festival, the magical inner Hebridean summer festival, is set to return for its 11th edition this July. It will be the first time the festival has been able to take place since its epic 10th birthday celebrations in 2019.
Get more information https://tireemusicfestival.co.uk/mailing-list/.
This year's exciting line-up of local, Scottish and international talent has been announced and will see singer-songwriter sensation Newton Faulker play the festival for the first time. While homegrown talent Skerryvore and Skipinnish will headline the big top once again.
The bill also welcomes leading Americana talent Jill Jackson, Scottish pop star Callum Beattie and Swedish trio Baskery, while US band Betsy Ade & The Well Known Strangers, who were finalists of The Voice!, make their UK festival debut. 
As always at TMF, emerging talent takes centre stage with appearances from Edinburgh pop duo The Eves, electro-trad newcomers Valtos, up-and-coming folk group Eabhal, TikTok singing star Nati Dreddd, singer-songwriter Cammy Barnes and many more.
Nati Dreddd and Cameron Barnes visited Tiree to officially launch the line up for this year's festival and get a look at the world-famous scenery for themselves and the spectacular festival site by Crossapol beach which will be transformed into a bustling hub of music, dancing, community activities, food and drink, camping, campervanning and glamping, in just over a months' time.
Thousands of visitors are expected to make the four-hour ferry journey from Oban once again and are being reminded by organisers to plan ahead.
This year's festival will also include a packed programme of fringe events to allow festival-goers to really make their most of the time on the island and enjoy an extended holiday.
The TMF Fringe programme events include tours and tastings at Tyree Gin's open day and for the time ever – the festival has teamed up with the Tiree Fèis (Fèis Thiriodh), Tiree's annual week-long summer school running classes in traditional music and Gaelic song.
This year will be the 35th anniversary of The Fèis has been the starting point of many TMF artists' musical journeys and will celebrate its 35th anniversary this year in the week running up to the festival. This year's Fèis will host tutors playing at TMF, including Skerryvore's Scott Wood and Eabhal's Hamish Hepburn. There will be an opportunity for visitors to listen to the tutors at a free session at Scarnish Hotel on the Tuesday leading up to the festival and on Thursday evening, the TMF big top will host a special family music and dance extravaganza in partnership with the Fèis.
The festival will also be part of Tìr Ìseal nan Òran – an island-wide project celebrating Tiree's stories, heritage, culture and Gaelic language as part of Scotland's Year of Stories 2022. Backed by Creative Scotland, local artists, young people and the wider Tiree community are being invited to take part in exploring and re-telling stories through a mixture of traditional music and song, film and photography, theatre and writing, and Gaelic and English. TMF will provide additional performance and workshop opportunities for the project.
Having joined Creative Carbon Scotland's Green Arts Initiative, this year's festival will also have a renewed focus on sustainability. All waste is being taken off the island to be recycled, paper cups will replace single-use ones at bars and vendors across the festival site and more bike racks will be installed to encourage people to bring their bike and use this to get around the island.
The inaugural Tiree Music Festival took place in July 2010 and was attended by a capacity crowd of 600. The annual event has since flourished with an increased 2100-strong capacity – an attendance that is three times the population of the island. Selling out year-on-year-, the festival has contributed £6.4 million to the island economy in the last 10 years.
The Island of Tiree is often dubbed "The Hawaii of the North" and with picture-perfect white sands and world-famous surf, a trip to Tiree Music Festival is a real Island adventure, often described as one of the most stunning festival locations in the world. 
Daniel Gillespie, Artistic Director for Tiree Music Festival, said: "The 11th edition of TMF has felt like a long time coming and we are just over the moon to be returning to our home this July to bring the much-loved spirit and togetherness of the festival to the island once again. We're incredibly grateful to everyone who has rolled their tickets over and to our supporters and volunteers who make the festival what it is. We want to come back with a bang and this tremendous line up is sure to have our infamous crowds dancing, jumping and clapping like never before. 
"As one of the remotest festival locations in the world, we know it is a great adventure coming to Tiree. It's been a while since many have made the journey so we would ask everyone attending to familiarise themselves with what ferries they've booked, arrival and journey times ahead of time so they can enjoy their festival experience to the fullest." 
Paul Bush OBE, VisitScotland Director of Events, said: "We are delighted to support the 11th edition of the Tiree Music Festival that will see visitors return to this multi-art and cultural event in the Inner Hebrides after two years. This festival will bring economic and social benefits to the local community, as well as provide a platform for artists from all over Scotland and beyond to promote Gaelic and island culture through music and storytelling.
"Tiree Music Festival joins our exciting portfolio of sporting and cultural events taking place this summer which are reinforcing Scotland's position as the perfect stage for events." 
Natti Dredddd said: "It's amazing to visit the stunning island of Tiree ahead of the festival next month – the place is really one in a million and it's made me so excited to see how it will be transformed in just a matter of weeks. Festivals with a community spirit at their heart always have such a special spirit and atmosphere and I can't wait to get up in front of the TMF crowd – it's going to be a weekend to remember."
TMF 2022 takes place on the island of Tiree between Friday 8th – Sunday 10th July 2022. Anyone looking for the latest festival info should sign up to the festival's mailing list at https://tireemusicfestival.co.uk/mailing-list/.
Follow these topics: News, Newsletter