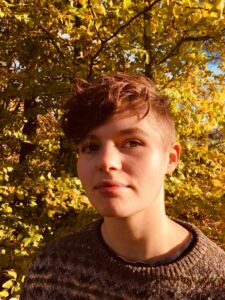 Evie Waddell is performing at Celtic Connections The New Tradition: Rejuvenation concert on Saturday 22nd January at 1pm in Glasgow Royal Concert Hall.
We asked Evie about the music they will perform in the concert.
I am a Gaelic and Scots singer and step dancer from Stirlingshire, who recently graduated from the BMus Traditional Music course at the Royal Conservatoire of Scotland. I also studied contemporary dance at the Scottish School of Contemporary Dance and have been lucky to combine these interests performing alongside WHɎTE in the play MAIM by Theatre Gu Leòr using British Sign Language (BSL), Gaidhlig, acting, music and dance. I am very deaf in one ear which I believe gives me a particular relationship with sound and marginalised voices. I also play harp and fiddle and love to teach.
For this project, I have been writing and arranging music around the theme of Silence and Violence, their interrelationship and often fine line between the two. There will be new and old songs, some in Gaidhlig and some in English and some a mixture of both languages.
I have made an arrangement of "Griogal Chridhe" or Beloved Gregor by Mór Chaimbeul ("Marion Campbell")- which is one of my favourite Gaidhlig melodies, partly because it has a very simple, lullaby feel and its warmth really comes across despite the shattering tragedy when she finds her lover beheaded. It's a really powerful piece of writing and her grief and rage feel so tangible, and on so many levels. It's set in Glen Lyon.
The second piece I call "A Thousand Zombies". This piece combines two existing songs because their stories align so well and both have powerful and important messages for us all, especially as we seem to be entering ever increasing spirals of world crisis. This is a bit of a wild card for me as its crossing two genres.
"Fios no fios" is the name of my last piece. It is a first for me is to write specifically about my own deaf experience. It's stimulus was a song writing course with Mary Ann Kennedy which I really enjoyed doing last year, and through which I started to own some of my deaf experience. In the song I refer to eg: the impact of sudden, unexpected noises or interruption; the discomfort of not knowing if I have heard correctly or are responding appropriately; the stress and strain on my whole body of trying to listen carefully, as well as the freedom and peace which comes with signing instead of listening.
Find out more about Evie at their website.
Thanks for Celtic Connections and Stonehaven Folk Club's Folk In Crisis Fund for supporting this concert. Buy a ticket here.
Follow these topics: News