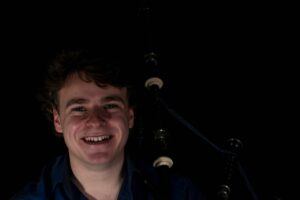 John Dew is performing at Celtic Connections The New Tradition: Rejuvenation concert on Saturday 22nd January at 1pm in Glasgow Royal Concert Hall.
We asked John about the music they will perform in the concert.
I'm John and I hail from Perthshire and learned the pipes in school from Anne Spalding. I then took an interest in both traditional and western classical composition during high school and composition study came soon after that. I went on to study Traditional Music at the Royal Conservatoire of Scotland where I enjoyed several performance opportunities; 'Ur: Future of our Past' at Celtic Colours festival in Canada, playing for HRH Prince Charles and playing as part of Hamish Napier's 'The Railway' as well as various others. I also compete in solo piping contests and was the overall Champion Piper at the 2019 Royal National MOD. I also play with the world renowned Inveraray and District Pipe Band.
Whilst at RCS I completed scores for 3 short films, one of which, 'What Separates Us from the Beasts', received 3 Royal Television Society awards in 2019. I also received the Agnes Miller Harmony and Counterpoint award for Advanced Compositional Techniques at the RCS. Over the lockdown I have released an E.P. 'The High Bridge Walk', a tune book and an album titled 'Mackerel Sky' which explores polyphonic bagpipe composition.
The music I have written today is comprises of a set of new pipe tunes. The tunes have no real link between one another in terms of title but melodically they complement and contrast each other. Inspired by some of my favourite artists such as Fiddlers' Bid, Chris Stout, Dreamers' Circus, The Secret North and John Metcalfe, I'm exploring the realms of melodic development and variation from these tunes and am aiming to showcase a narrative that has dynamic variation throughout the performance whilst escaping from the constraints of the humble "tune".
Find out more about John at their website.
Thanks for Celtic Connections and Stonehaven Folk Club's Folk In Crisis Fund for supporting this concert. Buy a ticket here.
Follow these topics: News