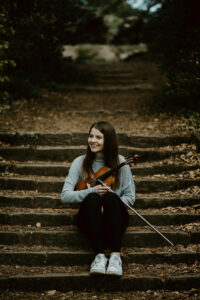 Isla Callister is performing at Celtic Connections The New Tradition: Rejuvenation concert on Saturday 22nd January at 1pm in Glasgow Royal Concert Hall, Strathclyde Suite. Buy a ticket here.
Isla Callister is I'm Isla Callister, a fiddle player and Manx Gaelic speaker from the Isle of Man. I grew up surrounded by the rich culture, language and music of the island, and despite now living in Glasgow after graduating from the Royal Conservatoire of Scotland, my connection to home remains an important influence in my music.
The prominent Irish session scene on the Isle of Man and my mother's homeland of Scotland have also shaped me as a musician, and these influences have only grown since moving to the music melting pot of Glasgow to study Traditional Music.
Making music to me is about connecting and collaborating with other people, and over the last few years I have been lucky enough to do that with my band TRIP and with other ensembles (Mairi McGillivray Band, Úr, Quick). As part of these, I have performed across the UK and beyond, including internationally acclaimed festivals such as Celtic Connections, Celtic Colours, Orkney Folk Festival and HebCelt. TRIP have also been successful in taking our music to a global audience at festivals such as Sligo Live, Viljandi Folk Festival in Estonia and Festival Interceltique de Lorient, and we will be releasing our debut album at Celtic Connections 2022.
I am also currently working on new music for 'Creeaght', a composition project exploring the lives and experiences of women who have shaped the history of the Isle of Man, and 'Rejuvenation: The New Tradition'.
We asked Isla about the music they will perform in the concert.
For this project, I have been writing music about Teeval – a figure found in Manx fairytales and folklore who is known as 'Princess of the Ocean'. Her story, for far too long, has been a 'mermaid's tale' clouded by the male gaze; one that objectified her, diminished her strength and painted her as no more than an accessory to a man's story. I hope to revisit the legend of Teeval through original music inspired by her story, the sea and Manx & Celtic folklore, and re-tell it with a new feminist light.
Find out more about Isla at their website.
Thanks for Celtic Connections and Stonehaven Folk Club's Folk In Crisis Fund for supporting this concert. Buy a ticket here.
Follow these topics: News