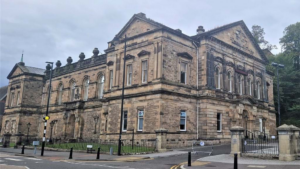 The stunning 140-year-old venue, located in the heart of Stirling, was named on the 'best of' list alongside the likes of The Barrowlands in Glasgow and London's Palladium and 02 Brixton Academy.
The magazine asked some of Britain's top musical artists who have been playing live for over a decade to choose their best venue to help produce the ranking.
Saul Davies, from indie-rock band James – who have released 16 studio albums selling more than 25 million copies – selected the Albert Halls.
The Liverpool-born musician, who spent some of his childhood in the Stirling area, recalled his memories of performing at the venue with the Stirling Youth Symphony Orchestra at 14 and then playing there years later with James, calling it a 'life-affirming moment'.
James and Saul's connection with Stirling doesn't end there, with the group writing part of their 2016 album Girl at the End of the World, in Stirling's award-winning Tolbooth – sister venue to the Albert Halls.
Heartbeat of Stirling's thriving cultural and creative scene
Convener of Stirling Council's Finance, Economy and Corporate Support Committee, Cllr Margaret Brisley said: "It's fantastic to see Stirling's Albert Halls recognised alongside some of the UK's most iconic and popular musical venues.
"The Albert Halls is an incredible venue that has been a key part of Stirling's civic and artistic life for 140 years, hosting a diverse array of concerts, performances and events.
"Saul has performed at iconic venues and major festivals across the world, so we're really proud that our very own Albert Halls is his favourite. It's clear the venue has a special place in his heart, starting from his time in the Stirling Youth Symphony Orchestra.
"While the Albert Halls has a great history, the great news is that it's going from strength to strength, attracting top artists and performers and regularly selling out in advance.
"A recent highlight was last year when it proved a fitting stage for the Scottish Album of the Year Award, further enhancing its reputation.
"We are committed to continue investing in the Albert Halls and our other cultural venues to ensure they continue to be the heartbeat of Stirling's thriving cultural and creative scene.
"We always knew Stirling's Albert Halls was among the best in Britain – but it's great to see it made official."
Follow these topics: News, Newsletter