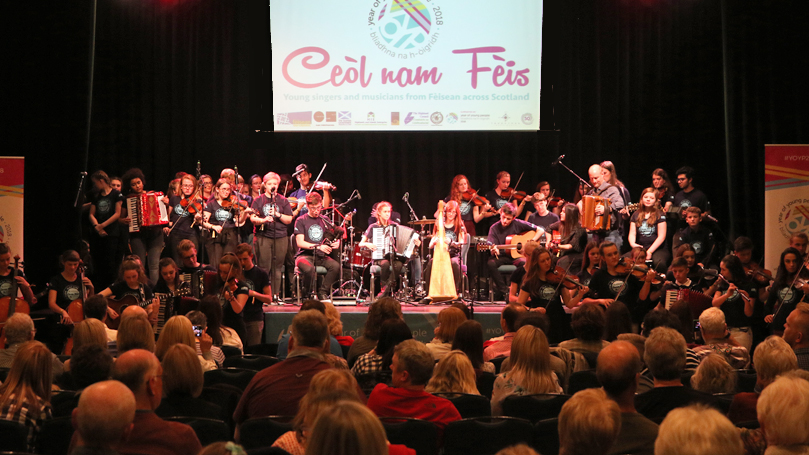 Talented young musicians from across the Highlands and Islands will be in the spotlight during the Blas Festival next month.
Homegrown talent is always at the forefront of the festival, which celebrates Gaelic music and culture during its nine-day event across the Highlands, and another important aspect of the festival, which has been running since 2004, is providing exciting performing opportunities for the next generation of young traditional musicians.
The festival will open with a special concert in Inverness Cathedral on 1st September featuring two young brother and sister duos; one from the Black Isle, Peigi and Donaidh Barker, and the other, Séamus and Caoimhe Uí Fhlatharta, from the west coast of Ireland.
Born into a musical family, siblings Séamus and Caoimhe Uí Fhlatharta come from Connemara, County Galway and are known for their sean nós singing (unaccompanied traditional Irish singing in the Irish language) with unique harmonies and arrangements. They are both accomplished multi-instrumentalists, Irish dancers and All Ireland winning performers and have just released their first EP, produced by Brian Whelan and Riverdance composer, Bill Whelan. Their Late Late Show TV performance in 2022 of the soulful lament, Anach Cuain, captured the mood of the nation and went viral around the world.
Black Isle brother and sister duo, Peigi and Donaidh Barker, come from a family of renowned Gaelic singers, with strong Isle of Lewis connections, and they too are making their mark in Gaelic music. Donaidh performs with Lewis McLaughlin and Josie Duncan amongst others and Peigi voiced the part of Young Merida in the Disney Pixar film, Brave, which included singing a duet with Emma Thompson. The duo has been performing since they were very young, having participated in various Fèisean, Belladrum Tartan Heart Festival, HebCelt Festival as well as contributing to the soundtrack to The Bard's Tale IV Barrows Deep game alongside some of Scotland's finest Gaelic & traditional artists.
For the opening night concert they will be joined by Binneas, a Gaelic harmony collective featuring Gaelic and folk singers from across Scotland, led by Gaelic singer John Joe MacNeil, and Jenna Cumming, Inverness-born award-winning Gaelic singer, before heading to Lairg Community Centre on 2nd September. Séamus and Caoimhe Uí Fhlatharta and Peigi and Donaidh Barker will also be performing at, Las, Portree (4th September) and Gairloch Community Hall (5th September).
Young musicians from Fèisean across the Highlands and Islands will make appearances at concerts and cèilidhs throughout the festival, including youngsters from Fèis Eilean an Fhraoich (Isle of Lewis), Fèis Thròndairnis (Staffin), Fèis nan Garbh Chrìochan (West Lochaber), Fèis an Earraich (Skye and Lochalsh), Fèis Inbhir Narainn (Nairn), Fèis Spè (Speyside), Fèis Lochabair (Lochaber) and Fèis Rois' Kiltearn Fiddlers. The festival will finish with a Ceòl nam Fèis finale concert, held in Lochaber to celebrate the 30th anniversary of the local Fèis, and will see young people from Fèisean come together from across the country to celebrate our outstanding young homegrown talent.
Other young musicians performing during the festival include double Royal National Mòd Gold medallist, Ruairidh Gray; harpist, singer, composer and Mòd Gold medallist , Màiri Callan; Highland composer, flute, whistle and piano player, James Bauld; and piper, fiddler, composer and instrument maker, Malin Lewis.
Arthur Cormack from Blas Festival organisers, Fèisean nan Gàidheal, commented: "Fèisean nan Gàidheal's main objective is to provide Gaelic cultural experiences for young people and one of our reasons for getting involved in running the Blas Festival was the performance opportunities it offered to young traditional musicians from across the Highlands and Islands. We are delighted to have such a strong and enthusiastic representation at this year's festival and especially happy to help Fèis Lochabair celebrate its 30th year with the Ceòl nam Fèis showcase event to be held in Fort William."
"Fèisean nan Gàidheal also recognises the tremendous contribution to Gaelic culture of individuals who have had a hand in passing on their skills to the next generation, so we are also pleased to be celebrating the significant birthdays of some of those folk this year."
Four special concerts during Blas will celebrate the contribution of respected tradition bearers.  Isle of Lewis singer and musician, Calum Martin, will mark his 70th birthday with two concerts in Lewis. On opening night, 1st September, Calum, who has a special interest in Gaelic psalm singing, as well as pockets of African-American and Cree Indian congregations in the US, will perform in his home village of Breasclete and on the 2nd, he will lead a concert at An Lanntair in Stornoway. For his birthday celebrations, he'll be joined by Isobel Ann Martin, Seonaidh Beag Macmillan, Donald Shaw, Fraser Fifield and Allan Henderson.
Rita Hunter, who was a driving force behind much of the growth in interest in traditional music in the Highlands and managed the successful Dingwall-based arts organisation, Fèis Rois, until 2008, will celebrate her 70th birthday with a special concert in Gairloch (2nd September) featuring a powerhouse of musicians.  We're a case the bunch of us includes Allan Macdonald, Finlay MacDonald, Iain MacFarlane, Leonard Barry and Ali Hutton. Former Fèis Rois participants, who are very well known to Rita, Siannie Moodie & Annia MacGillivray will also come together to share their music and Gaelic song.
World renowned Glenuig piper, Dr Angus Macdonald, turns 70 and will perform at Glenuig Hall (7th September) alongside his brothers Allan and Iain, Finlay MacDonald, Ali Hutton, Allan Òg Macdonald and many more. Dr Angus has competed and won many accolades for his piping including the Silver Chanter, gold medals in Oban, Inverness and in Canada, and the Inverness Clasp at the Northern Meeting and was instrumental in helping to establish the first ever Fèis in 1981, Fèis Bharraigh, before moving to Cape Breton where he spent 11 years before returning to the Isle of Skye.
On the final night of the festival (9th September), musicians Donald Black & Donnie MacKenzie, The Ness MelodeonBand, Seonaidh Beag Macmillan, Christine Primrose, Calum Murdo MacLean and Alex & Violet Morrison will gather to celebrate the 80th birthday of Ness Melodeon Band founding member and double Mòd gold medallist, Murdo John Mackenzie.
This year Blas, which means 'taste' or 'sample', and is organised by Fèisean nan Gàidheal in partnership with The Highland Council, will host 25 concerts and cèilidhs as well as an online offering which will include workshops, Gaelic song sessions and livestreamed concerts.
The full programme of events can be found at www.blas.scot along with details of how to purchase tickets.
Follow these topics: News, Newsletter