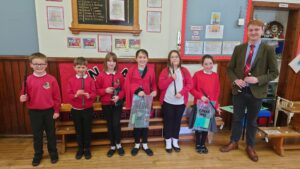 Pupils in Kinross High School and it's six associated primary schools are being given the chance to learn the pipes and drums in schools, thanks to a new tuition programme co-funded by the Scottish Schools Pipes and Drums Trust and Perth and Kinross Council.
The tuition programme was launched last month, with tutors running demonstration sessions in Milnathort, Cleish, Arngask, Kinross, Fossoway, and Portmoak Primary Schools and Kinross High School ahead of lessons commencing. So far over 50 pupils have signed up to learn the chanter as the pre-cursor to playing the pipes, and some 45 pupils have opted to learn drumming.
The programme is being managed by the newly formed Kinross Youth Pipes and Drums voluntary committee. Stephen Kennedy, Chairperson, commented: "The programme has received a really positive reaction in schools and there's been great demand to sign-up for lessons. We aim to form a competition pipe band in about a years' time which will enable pupils to represent Kinross Schools at competitive and social functions throughout the district. It is hoped that once pupils leave school they will continue to play and apply to join the local Kinross and District Pipe Band."
"It is also hoped that the band will receive support and encouragement from the parents, schools and district alike to promote its success."
Craig Glimm, parent of Nicholas Glimm, one of the Kinross High School pupils involved in the programme said: "I have been delighted to see my son's progress on the pipes. His tutor, Finlay Frame, is clearly a natural in the role. My son's continued enthusiasm is due in no small part to Finlay's efforts. This program adds so much to the pupil's school experience. I have no doubt that piping in the area will go from strength to strength thanks to this new project."
Paul Rosie, Faculty Head of Performing Arts at Kinross High School commented: "We are really encouraged by the positive start to this project and Finlay is already proving to be an asset to the school."
The project has been made possible by the generous joint sponsorship of Perth & Kinross Council and the Scottish Schools Pipes and Drums Trust (SSPDT), a registered charity that promotes the playing of pipes and drums in Scottish state schools.
Alexandra Duncan, SSPDT Chief Executive, said: "The Trust is delighted to support a programme that benefits schools, pupils and the whole community. We know that learning the pipes and drums, and being part of a pipe band, helps young people to develop complex skills for life, learning and work. The dedication and discipline, teamwork and camaraderie required to be part of a pipe band often match skills needed to be successful elsewhere in life.
"We welcome teachers, parents and community groups in other areas to get in touch to discuss how we could support them to introduce tuition to schools in their area."
For more information about how SSPDT can support your school or community, please visit www.sspdt.org.uk.
Follow these topics: News, Newsletter