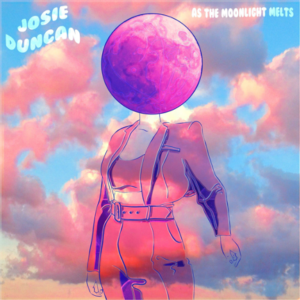 The 2017 BBC Radio 2 Young Folk Award winner Josie Duncan ventures confidently into new ground, with her self-penned debut solo album 'As the Moonlight Melts'. Set for release on 26th Aug 2022, itdraws comparisons to Sigrid, Phoebe Bridgers and Maggie Rodgers with heartfelt lyrics and catchy riffs.
Josie's original songs were receiving airtime before she left university, and by the time she had graduated from the Royal Conservatoire of Scotland, audiences from festival stages in Australia to Glasgow, had come to recognise her as a vital figure within the Scottish music scene. The intervening years have led her to become an expert in crafting heart-warming songs.
Josie Duncan's effortless, modern style of songwriting has captivated audiences around the world, gaining her a loyal following. 'As the Moonlight Melts' showcases 12 self-penned songs, which offer a personal yet relatable account of her life as a neurodivergent person navigating life and relationships in her twenties.
Josie says "The album is a melting pot of all of my influences from the pop music of the early 2000s to my traditional folk background. I got to pour my heart out and work with my dream band on this album. It means the world to me, and I am so grateful!" She describes the album as "Sad girl bops that you can dance or cry to!"
Featuring a stellar line-up of musicians, recorded at GloWorm Studios in Glasgow, mixed and mastered by Andrea Gobbi and produced by Craig McMahon, 'As the Moonlight Melts' is set for release on the 26th Aug 2022 and will be available via digital download/streaming sites. Vinyl and CDs will be available from www.JosieDuncanMusic.com
Follow these topics: News, Newsletter