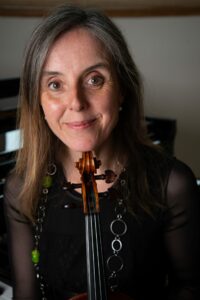 Legendary fiddler Jennifer Wrigley will return to Scotland in early 2023 bringing a star-studded line up of traditional music stars to play alongside the Royal Conservatoire of Scotland traditional music students for the premiere of her major new compositional work "Jennifer Wrigley: Catch the Rhythmic Orkney Tide and Ride", presented in partnership with Sound and Music, London, and the Royal Conservatoire of Scotland at the Royal Conservatoire of Scotland. "Jennifer Wrigley: "Catch the rhythmic Orkney Tide and Ride" will perform on Friday 31st March 2023 at 6pm.
Jennifer Wrigley is highly respected globally not only as a world class fiddler but as an ambassador for traditional Orkney music. She is internationally recognised as one of the leading fiddle players and traditional composers to come out of Scotland in recent years; influencing and inspiring players all around the world. Her style reflects ages of musicianship that has been passed down aurally from her heroes in Orkney. Recently described as one of the greatest fiddlers on this earth, Jennifer embarks on her first large sole venture in Scotland since the closure, owing to the Covid-19 pandemic, of the iconic Reel in Orkney. The Reel was a music school, café/bar, music shop, concert venue and exhibition space set up along with her twin sister Hazel and was open for 16 years. For over three decades she performed as one half of the celebrated duo 'The Wrigley Sisters', recording over a dozen albums, undertaken three world tours, visited forty-seven countries (including fifteen trans-Atlantic trips) and appeared in countless television and radio productions.
In 2021 Jennifer was chosen from over 200 applicants as a Sound and Music (London) New Voices Artist. Each year they support eight composers and creatives in a major artist development programme, lasting 18 months with coaching, mentoring and a grant to create a new piece of work and share it with new audiences. This new composition, based on the traditional music of Orkney, will combine Jennifer's current RCS Associate Artist role resulting in a magical and inspirational connection between students and world class professional artists.
The performance will feature singer Alyth McCormack and former featured singer with The Chieftains; multi-BBC award winning guitarist and accordionist Tim Edey; former BBC Folk on Two winner and past Riverdance band member accordionist Luke Daniels; Scottish Borders pianist Harris Playfair most recently known for his work with Blazin' Fiddles' Jenna Reid; finally fellow Orcadian and pianist Laurence Wilson who's playing is strongly influenced by his rich Orcadian musical lineage. Jennifer and Laurence have been playing together as a duo for over 4 years. Third year RCS student Lighting Designer Pippa Reilly will lead the partnering tech team bringing her own special creative accompanying luminary magic to the show.
Jennifer said: "I'm really excited to be bringing to fruition this brand-new medley/suite of music which tells a progressive story based on a journey from afar to a new place. Taking the listener to a time when life was simpler; where food, shelter, safety, company, and music are central and material goods are less so. Representing the struggle in life for material goods over a safe home/place to live and how we can live simply and within our means – musically this is represented by a simple traditional melody. The piece is in four sections and will highlight the influences in Orkney of the 1920s stride piano, Norse fiddle, soft spoken but powerful 'island' voices and the dance elements of Scott Skinner and Jimmy Shand – who make a special surprise appearance on the night!"
Professor Joshua Dickson, Head of Traditional Music at the Royal Conservatoire of Scotland, said: "Working alongside and performing with acclaimed artists like Jennifer Wrigley offers our students invaluable insight into the life of a professional musician. As an Associate Artist in Traditional Music,
Jenny is sharing her passion and experience with the next generation and creating exciting performance opportunities. This is Jenny's first concert at RCS and we're thrilled that our Traditional Music students will share the stage with her, and award-winning guest artists, for the premiere of this captivating new work."
The event will also see the launch of a brand-new interactive sounds website – an Audio Digital Identity & Inspiration Map iiMaphighlighting the importance of the rhythm in traditional music not only in the playing styles but also in the local dialect and mannerisms. By kind permission of his partner, the work of late photographer Keith Allardyce, whose photography of Orkney captures a way of life that is familiar but, fast becoming another layer of history. This special digital sound library, specific to a place and a time, created by artists, RCS students and ordinary people is a carefully considered and authentically local 'Favourites Selection'.
Jennifer added: "I want to invite the audience to come on a lovingly crafted audio and visual journey, see the place, meet the people, and hear what drives their artistic, musical, creative inspiration and influences."
Follow these topics: News, Newsletter