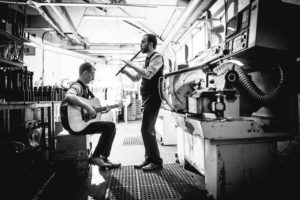 Figgins-Garden Band have reached the finals of Battle of The Folk Bands 2020. The competition will be held at Celtic Connections on January 25th in the Drygate Brewery at 1pm. Why not come along and join in the fun? You can buy tickets here.
We asked Scott of Figgins-Garden Band a few questions about the band.
Tell us about your band
Both graduates of the BMus Traditional Music course at the Royal Conservatoire of Scotland, Scott Figgins and Scott Garden studied principally as pipers and have also gained extensive experience across disciplines on other instruments.
Both from Irvine in Ayrshire, 'The Two Scotts' grew up piping together in their local pipe band and have been linked, both musically and as friends, since an early age.
Performing now as a folk music duo blending pipes, whistles and guitar; they bring a sound to the stage that can be recognised as having years of performing together and friendship at its core. They celebrated this musical friendship by releasing their debut EP "Horizonto" at Piping Live, 2019. They performed part of this launch gig with guest musicians on drum kit and guitar, and now perform both as a duo and with the "Horizonto Big Band", while still showcasing "The Two Scotts" at the forefront.
Winners of the 2016 Marymass Folk Festival Open Stage Competition, Scott Figgins and Scott Garden have performed for the Royal Family; and have also supported the likes of The Battlefield Band; Salt House and the Islay Sessioners in concert and festivals across the country.
Who are the band members
Scott Figgins: Pipes, Whistles, Guitar
Scott Garden: Pipes, Whistles
Jean Damei: Guitar
Gavin Paterson: Drum Kit
What are you hopes and aspirations for the band?
We would love to really fill our diaries for this year with gig and festival appearances both as a duo; and as the Figgins-Garden Band across the country – showcasing the plethora of new material we have been working on behind the scenes.
Looking further ahead, we are aiming to release a whole album and take it on tour next summer across Scotland, the UK and Europe.
Between us, we have massive aspirations for the growth of this musical adventure and see no limits to its opportunities- we can't wait to see what the future holds!
Check out the band's website.
Battle of The Folk Bands is a Hands Up for Trad project. Read about the organisation and join our weekly Scottish music information email here.
Follow these topics: Battle of the Folk Bands