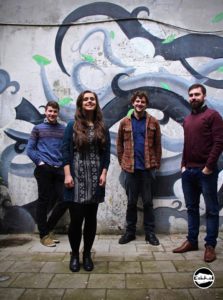 Congratulations to Eabhal have won the finals of Battle of The Folk Bands 2018. The competition was held at TradFest on May 6th 2018 in Edinburgh. It was a fab night of music and Balter, Suas, Eriska, SKNT GOAT were worthy competitors. Read about all the finalists here.
Watch their winning performance

We asked Jamie of Eabhal a few questions about the band.
Tell us about your band
Eabhal met and began making music together on the Outer Hebridean Isle of Uist. With members of the band coming for musically rich areas like the Scottish Highlands and Islands as well as rural Northumbria they draw on these traditions as well as other influences to create the 'Eabhal' sound! Eabhal are currently working on their first studio album which will feature Gaelic anthems and highland strathspeys and a lot of self penned music.
Who are the band members
Hamish Hepburn – Pipes/Flute/Whistle
Megan MacDonald – Accordion
Nicky Kirk – Guitar
Kaitlin Ross – Singer
Jamie MacDonald – Fiddle
What are you hopes and aspirations for the band?
We are looking forward to releasing and touring our first album which we are working on at the moment. We have recently been joined full time by the brilliant Kaitlin Ross who sang with us as a guest on our E.P and we are looking forward to working more as 5 piece line up. Music is a great tool for bringing people together and we love having tunes and getting the craic with as many people, in as many places, as possible!
Check out the band's website.
If you would like to take part in the Battle of The Folk Bands 2019 click here.
Battle of The Folk Bands is a Hands Up for Trad project. Read about the organisation and join our weekly Scottish music information email here.
Follow these topics: Battle of the Folk Bands, News, Newsletter