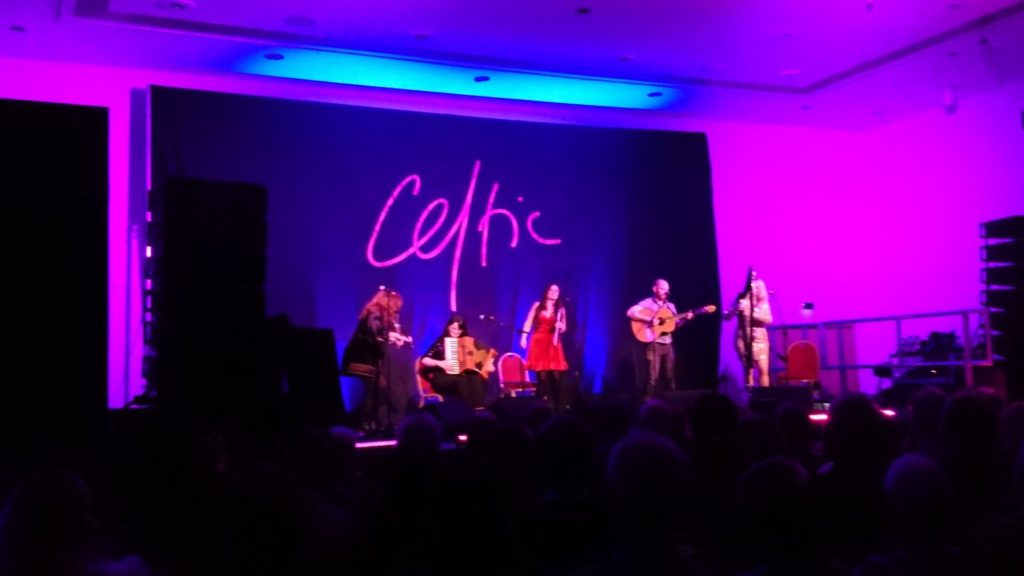 Eabhal formed while the members were based in The Outer Hebrides and provide a charming mix of Gaelic and Scottish tunes and songs on pipes and whistle (Hamish Hepburn), fiddle (Jamie MacDonald), voice (Kaitlin Ross), accordion (Megan MacDonald) and guitar (Nicky Kirk). They were joined by Charlie Stewart on bass who played with them on their studio album and his addition was perfect.
Eabhal's first gig was supporting The Outside Track five years ago, and Saturday night was the same again. They played a mix of new and old material, including their arrangement of The Artist, by Emma Sweeney, which used daydreamy guitar and thick homophonic passages which climaxed into an intense "moment". They gave a first airing to a new set of tunes which included a reel by fiddler Jamie MacDonald called The Groovy house. The move from simple time to compound time invited your body to move with the music. Their version of the song Annabel, which originally took its roots from a poem, had the audience engaged with the driving guitar giving it distant flavours of Irish band Lunasa. Ribhann Donn, in which they layer the Gaelic song over The Kilbrandon jig, from their album This Is How The Ladies Dance was the set closer. The track reeks of anthem with its powerful energy – a very enjoyable opening to a fantastic night of songs, tunes and dance!
The Outside Track – Mhairi Rankin (Cape Breton) on fiddle and step-dance, Fiona Black on accordion (Scotland), Ailie Robertson on harp (Scotland), Teresa Horgan on flute and voice (Ireland) and Sean Gray (Scotland) on guitar – were energetic and bouncy and filled the room with an eruption of dizzy cheekiness! This was the second date of their new tour and they already had an affinity with the crowd that created an joyus atmosphere. They looked like they were truly enjoying themselves.
They sang Banks Of Sweet Dundee, from their second last album. Horgan captured the audience in her story telling of the song and the rich creamy country-esque vocal harmonies were gorgeous. Their set of Dark Reels, two of which were written by harpist Ailie Robertson, had a dusting of sexy percussive flute cutting through the swinging tunes. They promised to bring a Cape Breton house party to the stage, and they did when Rankin's foot percussion during a set of strathspeys and reels broke into a full step dance. All extremely well received by the audience!
The Outside Track gave a stormer of a gig – they are a brilliant live band!
Claire Gullan