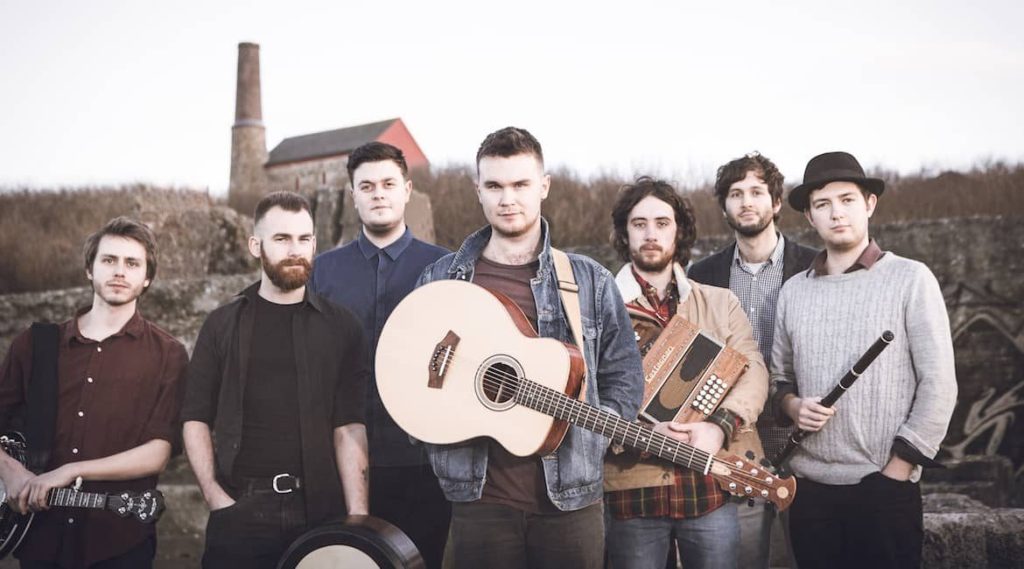 Sam Kelly and The Lost Boys didna need ony introduction an' rippit intae the first sang, Greenland Whale wi' rare vigour. I' powerhouse o' a band commandit attention fae I' first nummer and fit impressed me, wis a' the loons singin' an takin' different harmonies fae I' ward go – mair lads need tae sing, an' Sam's band is a braw example of foo powerful a sang is wi' mony male vices thigither. A muckle soond.
Greenland Whale is found in Volume 1 of the Greig-Duncan Folk Song Collection, as well as in the Mavis, a collection of songs published in Glasgow in 1820. It's also found in Vaughan Williams Penguin Book of English Folk Songs. It's been sung by mony tradition bearers an' source singers doon Sooth sic as the Watersons, Louis Killen an' up North b' Isla St Clair; an although A.L. Loyd scrieved "This is the oldest—and many think the best—of surviving songs of the whaling trade.", Sam Kelly brings this sang richt up-tae-date an' is a braw openin' tae his set. Yon wild brakdoon's at the end telt abdy thit the gig wis stairtin, an' thit they meant business.
Sam went on tae introduce a sang fae Aiberdeenshire, the Bonnie Lass o' Fyvie. A sang weel kint an' sung in competition balladry and in session up in the North East. Bit av' niver heard sic a braw version as this – the band his added a refrain an' his injected Bonny Lass o' Fyvie is in volume 1 o' the Greig-Duncan Folksong
.Collection an' fit fine is it tae hear folk fae aa' the country ower singin' sangs fae my hame area, an' nae bein' afraid tae chainge them up a bit. I'd actually gae as far as sayin' thit this version is aimaist better than I' version ye'd normally hear, this wis a giy welcomed reboot. I jist winder far he got it fae! In Jock Duncan's Springthyme liner notes, it's said this Bonnie Lass o' Fyvie wis collected by Cecil Sharp in the Appalachians under I' title Pretty Peggy O' an' thit Fords Vagabond Songs his a version in it tit;ed Bonnie Barbara O' fich is localised tae Derby. This jist shows I' universalism o' folksong – wir aa' connected an' we share this muckle tradition. Maist o' the sangs were fae his new album, Pretty Peggy, aptly titled aifter the quine in the Bonny Lass o' Fyvie.
Maist singers in the North East canna even pronounce Auchterlass or Garioch, so its giy impressive ti see a loon fae Cornwall pronounce thim richt! A' the fowk cam fae aa' the airts an' pairts o' England, bit seem ti hae a strang Irish influence an' soond tae them, which fits sic bonny fin paired wi some sangs fae Scotland.
He gid on tae sing a song fae ower the pond, Stephen Foster's Angeline the Baker, dating fae 1850, anither een fae his new album. This is the maist catchy ava an' Sam encouraged the audience tae sing alang.
Sam then gid on ti sing The Singing Ship. And quipped thit the band werena "just playing Scottish songs because they're in Scotland" – and mechty, he dis them weel guid justice. This sang is a spin basoan Child #243, the Scots ballad, The Daemon Lover, which his bin recorded b fowk the warld ower. This sang gies a darker mair menacin' take an' is a braw contrast. He then cairred on with a sang called The Keeper, the room getting giy full, the attention o' I' crowd wis fully on the loons, fae were a' singin. The lads hid only ane mair sang, an' then they ended wi' a tune set, which got abdy gan.
I canna help bit feel like the sang tradition is in affa safe hauns, bit I'm impressed at the length and bredth o the repertoire thit Sam sings. His work really his nae "musical or geographic barriers" an' gies a rare insight inti different pairts o' the sang tradition, if it be fae England, Scotland, Ireland or far awa.
It's a giy shame thit this band wis only gien 30-40 minutes, as I wid hae listened a' nicht lang. Sam's crystal clear voice certainly groonds him as a contemporary folksinger tae the highest degree. I'd hae thought that the lads wid hae pulled a remarkable load o' the audience in, an' I wid hae liked tae hae seen them dee a headline show in ane o the venues wi' mair capacity.
Since speirin' them at Sark Folk Festival in 2017, I' lads jist keep gettin' better an' better. This band is ane o' them thit is jist makin' folk music cool tae a hale new livil – or at least makin' yon banjo cool! The band taks aul sangs an' really pits giy fire inti them, but it shines through that the loons truly respect the Tradition, an' far the music comes fae.
Mair deets can be foond: www.samkelly.org/
Sam Kelly's albu can be bocht here: http://www.samkelly.org/shop.php