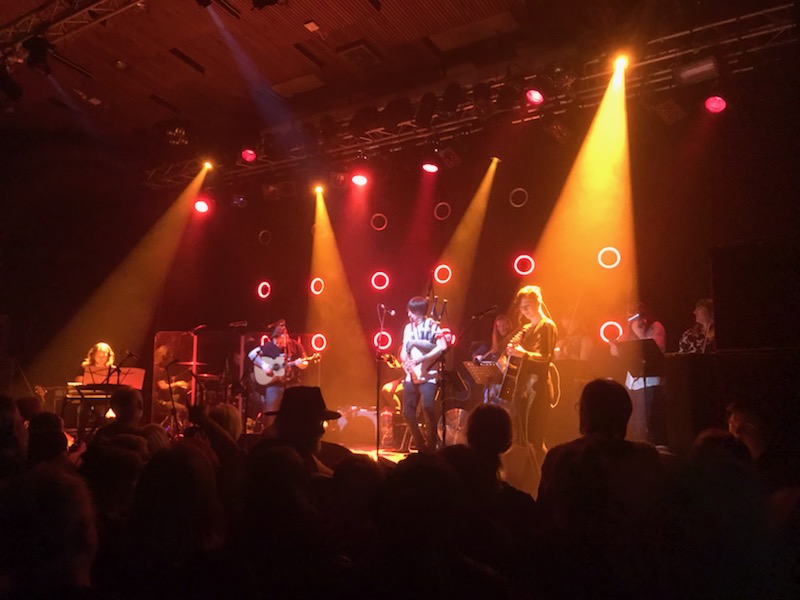 I had been looking forward to this gig all Celtic Connections festival. I enjoyed Ross and Ali's CD – Symbiosis II and I was interested to see how it would be performed live. The first thing that was great about the gig was the lighting! Lighting engineer Gary Ebdy is a genius and from minute 1 the lights made you know that this gig was going to be something different. And it was. Right from the off the band exploded with rockin tunes that instantly made the capacity crowd want to dance. This was the theme for the night and it was fantastic.
The line up of the band was Ross and Ali – both on pipes and whistles. Jenn Butterworth on guitar who was dressed up splendidly in a skeleton suit. They had Martin O'Neill on bodhran, Paul Jennings on drums, Duncan Lyle on Moog and a string section made up Patsy Reid (who wrote the arrangements), Megan Henderson, Seonaid Aitken and Greg Lawson. This combined with the band's producer Andrea Gobbi at the mixing desk made for an amazing sound from the stage.
Ross and Ali also invited two singers – Blue Rose Code and Fiona Hunter who sang two songs each. This really worked as the songs complemented the band and also broke up the instrumentals. I especially liked Blue Rose Code's first song – he brought real energy to the stage.
It was a well considered set that kept the audience going right to the end of the night. Everyone was dancing and swaying along to the music. A couple of small things. I wasn't sure about the arrangement of Dick Gaughan's Both Sides of the Tweed. The constant kick drum throughout the arrangement felt unsympathetic to the song and also where I was standing the bass on Martin O'Neill's bodhran was shaking the floor which was fun at first but soon stopped being so! This apart though – I hope this lineup get the opportunity to perform again as they will delight any festival audience.
Supporting the band was piper Anxo Lorenzo and his band from Galicia. He is a truly virtuoso musician with a great band. Scottish musicians David Foley and Ross Ainslie both got up during the set to join Anxo for rousing sets. I would liked to have heard Anxo perform more Galician material and sometime play slightly less fast though. He was a great support to Ross and Ali's set.