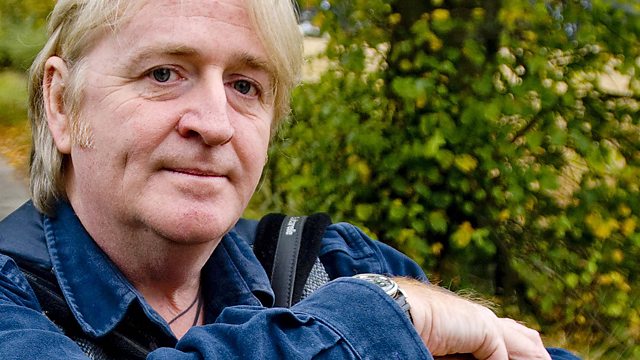 This evening saw musician & composer Phil Cunningham take to the stage of the Concert Hall, to perform a suite of music written for the 2021 BBC TV documentary, The Narrow Sea The Farther Shore. The music took inspiration from the sights, stories and sounds of the coastlines of Ulster and Scotland, and 'The Narrow Sea' that connects them.
Cunningham was joined on stage by the band he chose to perform the pieces on the documentary – Kate St John (who also orchestrated the music), Sarah Allen, Su-a Lee, Greg Lawson, Cheryl Crockett, Sasha Buettner, James Mackintosh, Sally Simpson, Anna Massie, Jarlath Henderson, Innes White and Duncan Lyall. Each composition had been expanded and developed for this, the first performance in front of a live audience.
With field recordings and tales to match each piece, the music was a beautiful representation of Cunningham's strengths as a tunesmith. His music is packed full of emotion, whether the beat goes fast or slow, and his sense of melody is exceptional. Each composition here was rich in detail, but without pretence, rooted in tradition even as it explored pastures new. This will come as no surprise to those who've enjoyed Cunningham's music for many years, but it still doesn't cease to amaze. The band were each given space to shine, and – as Phil himself remarked – really brought the music to life in its cinematic breadth and complexity.
There was pleasant familiarity, with a set that began and ended with a slow version of 'The Hut on Staffin Island', from Phil's days on Skye. Another highlight was 'The Sea Is Calm Now', a hymn-like tune in memory of composer John Ashton Thomas.
Detouring from the documentary, 'The Sadness Of It All' – dedicated to the people of Ukraine – was another fine encapsulation of the graceful melancholy that Cunningham does so well. Phil explained that his friend Boris had been compiling an album for the country, and called him saying: "Phil, I need you for the sadness." On receiving Phil's initial piece, Boris responded: "it's beautiful. But it's not sad enough!" The accordionist's final effort certainly met the brief, and the show – finishing with the rousing 'Leaving Portpatrick' – was deservedly met with a standing ovation.
Session A9 opened the evening, with a merry mixture of songs (sung by guitarist Marc Clement) and tunes, many of them written by their four fiddle players: Gordon Gunn, Charlie McKerron, Adam Sutherland and Kevin Henderson. Slowing things down to play 'The Sleeping Tune' – a hauntingly elegant piece by the late Gordon Duncan – they finished off their set in fine full- speed form, with session-favourite 'The Road to Errogie' by Sutherland.
Alan Murray