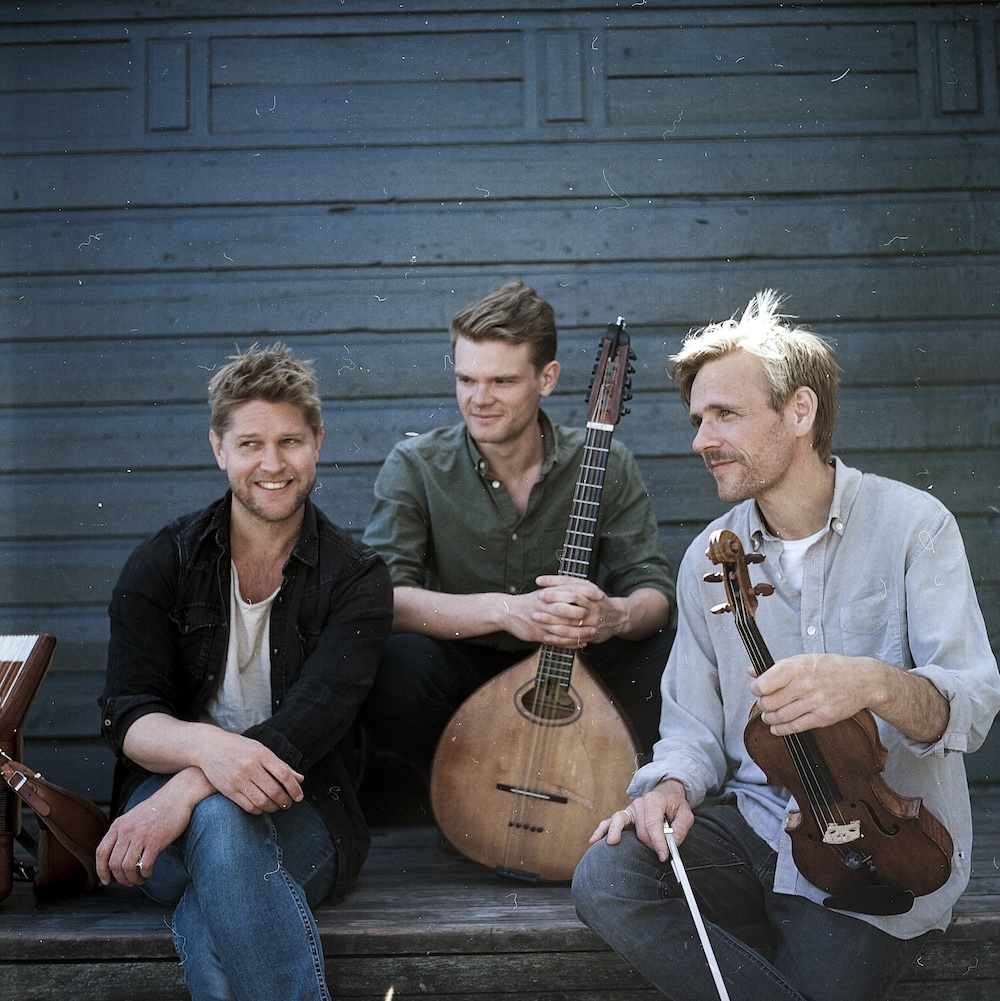 This evening in the Concert Hall was dedicated to Scottish and Scandinavian folk, with three contemporary bands taking to the stage to showcase their Scandi-Celtic connections.
First up were Finnish outfit Frigg, four violinists with guitar, double bass and mandolin/cittern completing their bluegrass-influenced collective – or, as they call it, "Nordgrass". Their set ebbed and flowed in tempo, with marches and slower pieces mixed with faster polskas.
The group, now over 20 years young, really got into their own in 'Early Bird', as the 4 string players diverged into separate intertwining melodies, before returning to play in powerful unison. Like a murmuration of starlings, the band's rhythmic shifts and dynamic swells were mesmerising.
Glasgow's own Kinnaris Quintet were next, playing a number of pieces from their current album This Too, as well as older favourites. Previous winners of the Belhaven Bursary for Innovation in Music, the group combine Scottish trad with Scandinavian and Appalachian styles.
'Leaval', by Fiona MacAskill – one of the band's three fiddlers – was a particularly beautiful and optimistic tune, about time spent at her gran's house in Uist. 'Saltspring' was another glistening piece, with an incredible technical fiddle tune played by Laura Wilkie. Jenn Butterworth and Laura-Beth Salter, on guitar and mandolin respectively, were in perfect sync throughout, whether keeping a driving beat or subtle accompaniment.
Nordic trio Dreamers' Circus were the final act, with a mysterious first piece that involved soft whistling. This was followed by a blistering take on Vivaldi's 'Winter' that playfully merged classical virtuosity and the sensitivity of folk in a way that few bands can. The group is comprised of Rune Tonsgaard Sørensen (violin), Ale Carr (cittern) and Nikolaj Busk (accordion/piano), although each player is a multi-instrumentalist. Indeed, almost every new piece brought its own instrument change, with some experimental touches on synths featuring sporadically.
Sørensen's exceptional pitch on the violin, and the band's tight grasp of rhythm, was shown brilliantly in 'Kitchen Stories', which involved a fascinating section where they deconstructed and tampered with the main melody. With pieces like this, Dreamers' talent – and the confident humour with which they operate – really shines.
As a final treat, the three groups all took to the stage to play a selection of tunes from their various homelands. They were greeted with a number of standing ovations from the joyful audience. As Kinnaris' fiddler Aileen Reid remarked, "this is why you play folk music!"
Alan Murray