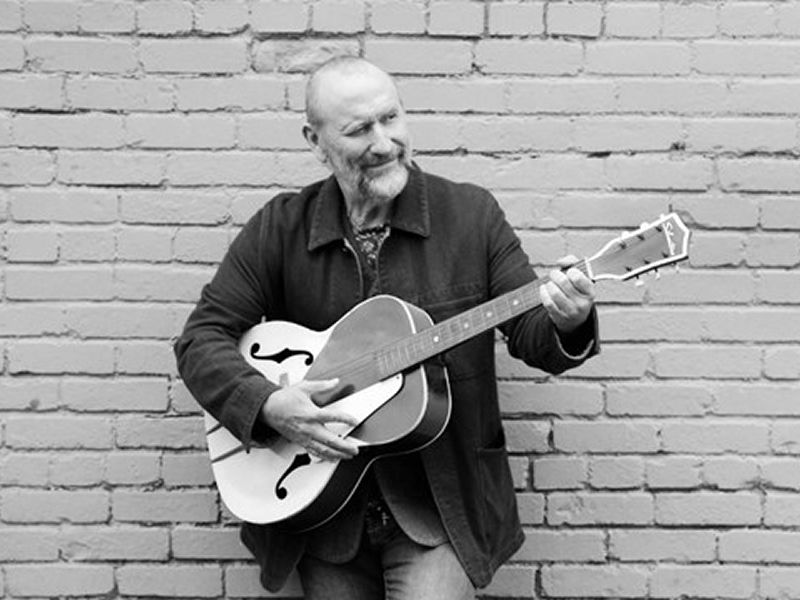 Four days into a UK tour saw Colin Hay performing at The Old Fruitmarket for Celtic Connections. The Grammy-winning songwriter – well known as ex- frontman of Australian band Men at Work – had spent the past two evenings playing sell-out shows in Irvine, close to his hometown of Saltcoats on the Ayrshire coast.
Tonight was also sold out, with a hall full of eager fans clapping along to Hay's walk-on music until he appeared. A seasoned performer, he looked at home on stage, with a rug under his feet and a wooden coat stand ready to take his jacket. Full of dry-witted anecdotes, he made an instant connection with the audience. "I was in Irvine last night – you know it's the 4th most desirable town to live in, in the whole of North Ayrshire…well, I'm from Saltcoats, that's no. 13."
Hay played a varied set, peppered with crowd-favourites, selecting songs from an impressive 15 solo albums. This included a number from last year's Now And The Evermore, which features a cameo appearance from Ringo Starr. Hay, now based in Los Angeles, is a regular member of Ringo's All-Starr Band, with whom he's toured the world several times.
A number of Hay's songs had the audience singing along unprompted, including 'Waiting for My Real Life to Begin' and 'Overkill'. The latter, from the raconteur's Men at Work days, was a highlight of the set, showcasing Hay's powerful voice and vocal range. A cover of Waterloo Sunset – "one of the best pop songs ever written, I think" – had the songwriter reminiscing that it was playing as his family set sail for Australia from Southampton in 1967, when he was 14.
The biggest singalong of the night was reserved for hit song 'Down Under', Hay's encore. He is an authentic and distinctive songwriter, and this solo show was the perfect setting for these qualities to shine. Full of stories and energy, he shows no sign of tiring as he approaches his 70th birthday.
Gifted Scottish singer Hannah Rarity opened the show, with her band comprising Lauren MacColl (fiddle/viola), Innes White (guitar) and John Lowrie (piano). Rarity's exceptional pitch and steady, pure voice allows her to navigate all sorts of material; tonight she focussed on songs from her 2nd album, last year's To Have You Near, produced by bandmate White. One of these, 'My Friend', with its beautiful soft piano and guitar riff, had the audience singing along with each chorus. Another highlight, with Hannah on solo guitar, was 'Kaleidoscope', written about characters she met whilst working amongst people with dementia. Rarity's voice, ever confident, shines through these self-penned works.
Alan Murray