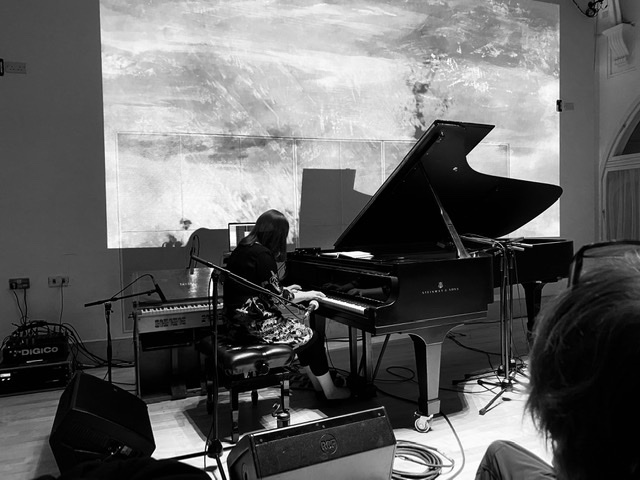 The pianist Mhairi Hall is no stranger to innovative ideas – her last album launch took place atop Cairngorm mountain, with an upright piano brought up specially for the occasion.  Over ten years later, this evening saw her launching Airs in the (slightly more accessible!) Recital Room of the City Halls.  The perfect setting to perform her music, it was packed as she sat at the Steinway grand to begin.
Airs involves a number of Hall's own pieces, as well as interpretations of traditional Scottish slow airs.  It's worth noting that for any traditional musician to undertake a project of solely slow pieces such as this suggests someone who is supremely confident with their instrument.  Hall started with 'An Old Skye Air', setting the tone on a harmonium before moving to the piano.  Her setup also involved a laptop and electronic pedal, which she used to trigger a selection of ambient sounds – this potentially distracting arrangement was handled skilfully, in a way that blended well and kept the focus on the beautiful melodies and harmonies.
Halfway through the piece, my eyes were drawn to the wall behind Mhairi.  An image had appeared gradually, as if by magic; the scene and colours complementing the music in its subtlety and poise.  Mhairi soon explained that this project was a collaboration between herself and Ullapool-based artist Beth Robertson Fiddes, and that they would be touring it together this year.
The lilting 'Lullaby for Eilidh' (Mhairi's daughter) was a particular highlight, the rise and fall of the melody instilling a sense of calm in the room.  Indeed, the whole performance was a lovely moment of peace & respite from a stormy day in the city; it conjured up images of the Highlands in my head as I listened, something that is always welcome.  Mhairi's album Airs is on sale now, and judging by this show it's well worth a listen.