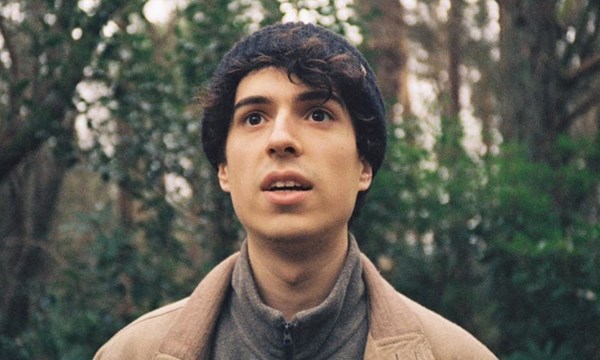 Having missed the opening concert for Celtic Connections on the 19th of January meant that Lewis McLaughlin, supported by NANI was the first gig I attended during the Festival. In short it was a most enjoyable couple of performances and a great way to kick off the festival.
The theatre of the CCA was a great venue for it and attendance was excellent, with a varied mix of people in their 20's to their 70's and everything in between. Unfortunately, the tickets read 7 o'clock for doors, performance at 7.30, but the doors didn't open until 7.30 and Nani didn't go on until 8. Fortunately, this meant extra time for a drink in the bar, but it would have been nice if the times had been correct.
Nani who is a singer, songwriter and guitarist is originally Austrian, but proudly Edinburgh-based started the evening with the only song of her performance that she has recorded. Continuing with all new material she had the audience laughing as she declared "If you like what you hear, too bad, it's not on streaming services anywhere". Nani and her band (bass, drumkit and fiddle/electric guitar) executed a laid-back performance of Nani's songs, which circled around the theme of death were more relaxing rather than depressing. It was a shame that a few technical and tuning issues happened during the performance. Overall Nani's stage presence and connection with the audience was great, and it would be interesting to hear a more polished version of her songs on a recording in the future. Until then Nani is one to look out for in the Scottish music scene.
Lewis McLaughlin, who also briefly appeared during Nani's set when his bandmate Donald Barker was stuck in a lift, continued the evening with his own act. Lewis and his band delivered a smashing performance during which Lewis played a mix of songs from his debut album as well as older songs, new ones and a single cover. The arrangements were tight, the band very in tune with each other's playing and their chemistry on stage was a joy to watch. Lewis seemed very grounded and present and his banter with the audience excellent. Besides Lewis' usual band he was also joined by guest appearances from sax (Matt Carmichael), whistle (James Bauld) and voice (Beth Malcolm) who also appears on his debut album. Other than being treated to the very full sound from the 8-piece (including guests) band for some of the performance, Lewis also shone on his own with a solo song and a few songs as his trio with Chlöe Bryce (fiddle, backing vocals) and Donald Barker (keys, backing vocals). The change in line-up through the evening was a nice variation and the performance in its entirety, including jokes and storytelling from Lewis, a song dedicated to his mum and a birthday song for his girlfriend came across as heartfelt, poetic and wholesome.
A lovely way to kick off Celtic Connections 2023.
P.S. for any curious soles, the cover Lewis performed was Everything Is Free by Gillian Welsh which she wrote as a reaction to music being put on online streaming services. Lewis thanked his audience for supporting live music and he thanked everyone who has supported him by buying his album. He did it in a light-hearted way, but it seemed a very important point, especially after two years with periods of no in-person performances and with the current cost of living crises.
Lea Søndergaard Larsen