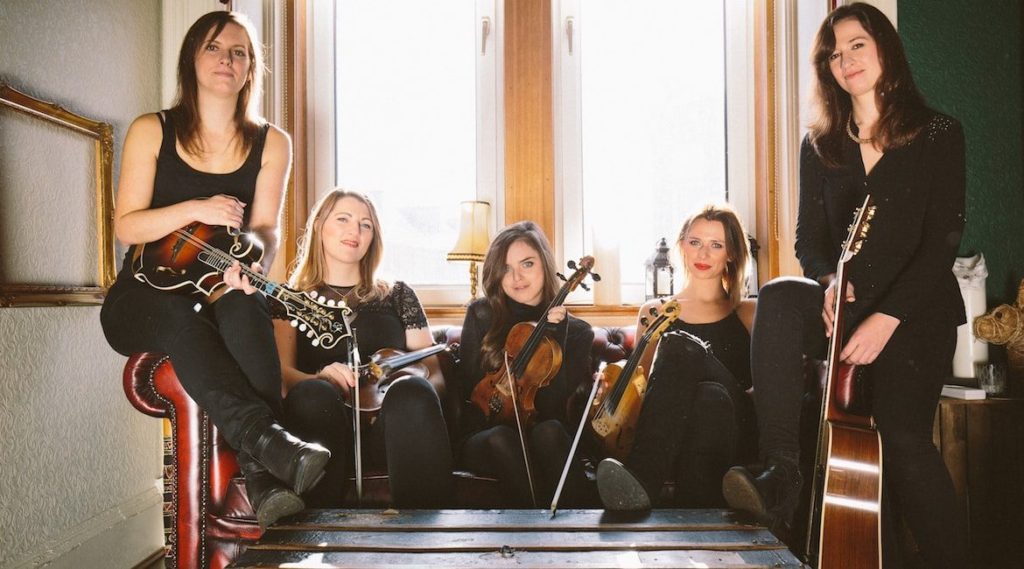 Westward The Light are the incredible blend of Joseph Peach on piano, Charlie Grey on fiddle, Sally Simpson on viola and fiddle, and Owen Sinclair on guitar, and together they were the spectacular opener to the sensational Kinnaris Quintet.
Westward The Light opened with a March played by unison fiddle and viola, which evolved through harmonic passages into some polkas. The string playing of Charlie Grey and Sally Simpson was very well suited to each other and the quality of the music was special.
They played a colourful assortment of well known traddy pipe tunes mixed with more contemporary melodies. Grey's slinky fiddle playing made a pipe retreat march sound as far away from a regimental tune as possible, it was glorious. Throughout their performance, Simpson's undulating bowing administered fire and drive to a most excellent slice of Saturday night music – The audience were nearly calling for an encore of the opening act!
Kinnaris Quintet were FABULOUS FABULOUS FABULOUS! Aileen Gobbi, Fiona MacAskill, Laura Wilkie, Jenn Butterworth and Laura Beth Salter glittered and sparkled in both music and presence from the moment they walked on stage, bringing a confidence and positivity that glowed and spread throughout the room.
Their statement sets were full of rich bouncing euphoric energy. Every now and again soft angelic voices would appear, strengthening the beauty of the evening . Every set was amazing – too many to mention, but "Fiona is a Beautiful Princess" and "This Too Shall Pass" really left a lasting mark.
The standing ovation was ceased by their encore, in which their reverby gorgosity melted away into their Kinnaris style banging beats from Jenn's magic shoes!
Kinnaris Quintet deserve every penny of their recently awarded Belhaven Innovation Bursary and I can't wait to hear them again!
Claire Gullan