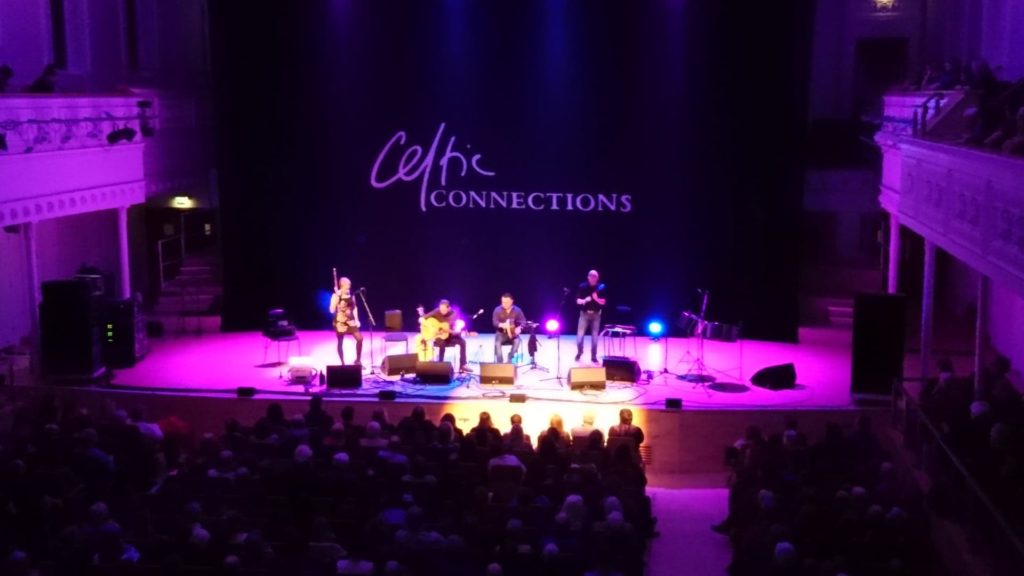 The City Halls was the perfect room to hear the American Bluebrass sounds of Jacob Jolliff and his Band sharing a stage with Anglo-Irish instrumental band Flook – An evening of virtuoso improvisation!
Mandolinist Jolliff, who studied at Berkley College of Music, confidently owned the spotlight on stage, giving a flawless evening of intricate improvised passages, perfectly suppported by his band – fiddler John Mallander, guitarist Myles Sloniker and bassist Jake Stargel.
Their outfit was a blend of head-bopping bluegrass melodies in which every band member's fingers danced together in synchronization on their instrument's fingerboards, alongside spirited three part vocal harmonies that produced an honest sound, all of which was very well received by the Saturday night audience. They were fast and furious. Each member was clearly at home with their numerous improvised solos – fiddler Mallander used sweeping legatos bows to contrast impressive pizzicato bass solo's played by Jake Stargel and guitarist Sloniker's virtuosic guitar solos. Jolliff's own composition Lou Lou's Waltz composed for his Gran, was a gorgeous contrast to the bluegrass grooves, mixing tremolo mandolin with sentimental fiddle.
Together, Brian Finnegan on flute & whistle, Sarah Allen on flute & accordion, Ed Boyd on guitar and John Joe Kelly on bodhran are the established sound of Flook! They performed their recent album Ancora – their first album in fourteen years – which was recently nominated for BBC radio 2's Folk Album of the Year.
They opened their set with the last track from the Ancora album, Omos Sheamuis and continued to play the album in reverse over the course of the evening, filling the room with the bubbly effervescent rolling music of Flook. From the outset, Finnegan was clearly absorbed in the moment, his entire body being used to articulate silky sounds on his whistles and flutes. In comparison Allen stood in her often observed balanced on one leg pose, still as a statue throughout the evening, adding percussive sexy whispers on her alto flute. Alongside Ed Boyd's driving guitar and John Joe Kelly's hypnotic bodhran, Flook gave an incredible performance of their distinctive sound, which cannot be mistaken for anything else.
Their performance was filled with waltzes, airs, jigs and reels sandwiched between irregular time signatures. Special guests were brought out throughout the evening – Patsy Reid on viola and Niall Murphy on fiddle provided rich velvety textures to the waltz Eilidh Goes West, a Brian Finnegan composition. The banter on stage had the audience laughing and the evening was filled with joy – They even make a minor tune sound happy!
Claire Gullan