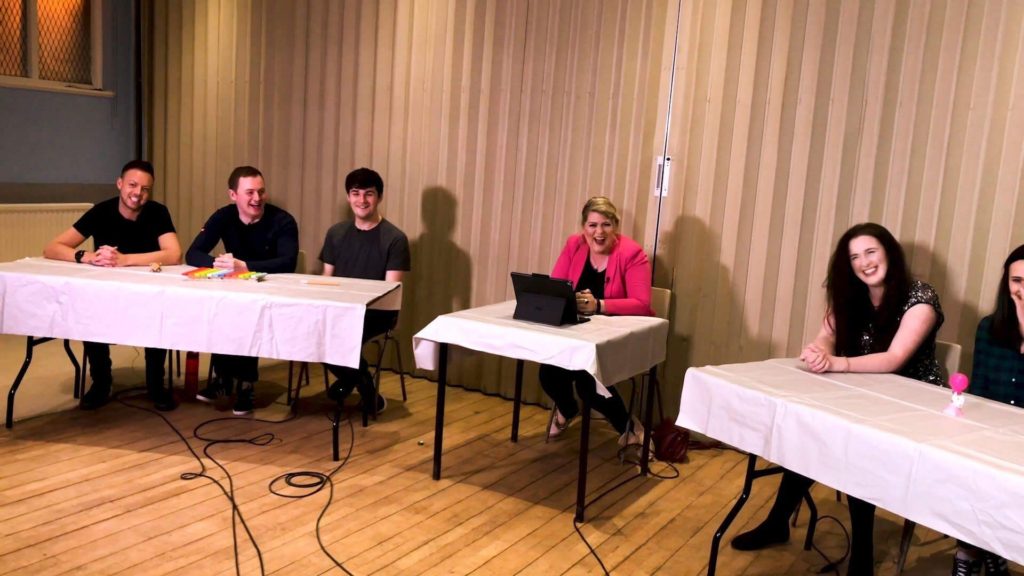 Watch the latest Hands Up for Trad quiz featuring our team of Glasgow Highlanders vs Glasgow Irish. It was great fun! Can YOU answer the questions? Please Share! The answers are below!
Our two teams. For the Highlanders we have: Seonaidh Macintyre, Blair Teska and Ewen White.
and the Glasgow Irish: Sìle Friel, Paddy Callaghan, Patricia McArdle and Tiernan Courell.
Round 1 – quickfire
Which sport was common at the end of a highland wedding? Boxing
Loch Lomond is the biggest loch in Scotland, what is Irelands biggest loch called? Lough Neagh
The William Kennedy Piping festival is run by which famous musical family? The Vallelys
Planxty's first major performance was supporting a Scottish pop star in Galway. Who was the pop star? Donovan
What came first Fleadh Cheoil or Comhaltas Ceoltóirí Éireann? Fleadh Cheoil 1951 – Comhaltas 1952
What is the name of the first Altan album Horse with a Heart
Bonus – What was the name of Frankie Kennedy and Mairéad Ní Mhaonaigh's second album? Altan
Name the Scottish winners at the recent Radio 2 Folk Awards? Mohsen Amini, Imar, Karine Polwart and Siobhan Miller, Chris Stout and Catriona McKay
What Shetland band do Chris and Catriona perform with? Fiddlers' Bid
Picture round – Name That Album Cover!
The Pirates of Puirt – Daimh
Feadoga Stain- Mary Bergin
Estb 1976 by Allan Henderson
Planxty
Mind your Language Round
The Irish name for Donegal is Dún na nGall. What is the literal translation of this? fort of the foreigners
bonus Q what is the other name for Donegal. Tir Chonnail
What is 'craic'?
In Ireland what are 'the jacks'? Toilets
What does the the word fèis mean? Festival/celebration
The Sound of Music Round
First Harvest – Iain MacDonald & Iain MacFarlane
an Rathad a Bhatersaigh – The Vatersay Boys
Hearts Broken, Heads Turned – Jarlath Henderson
Strata – Siobhan Miller
Last Round
When was the Glasgow Skye Association formed? (1865)
What Chinese instrument was the forerunner to the accordion? (Sheng)
Which Scottish university welcomed Britain's first female student in 1862? (St Andrew's)
The Seagull, the Duck and The Hens March came from the pen of which composer? (PM Donald MacLeod)
Which Scottish musician won the All Ireland Senior Fiddle Competition in 2017? (Roisin Anne Hughes)
What was the first computer game developed in Dundee? (Grand Theft Auto)
Which South Uist piper won third place in the jig competition at the Northern Meeting in 1972, but was unable to compete in the march competition due to her dress. (Rona Lightfoot)
Which whistle and uilean piper was inducted to the Scottish Traditional Music Hall of Fame in 2005 and leads The Chieftains? (Paddy Moloney)
Subscribe to our Hands Up for Trad YouTube channel https://www.youtube.com/c/handsupfortrad
More about Hands Up for Trad:
http://www.handsupfortrad.scot
https://facebook.com/handsupfortrad
http://www.twitter.com/handsupfortrad
https://soundcloud.com/handsupfortrad