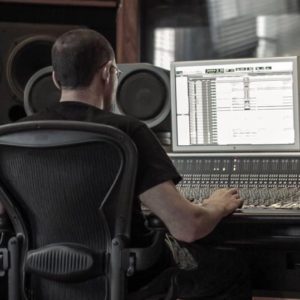 Congratulations to Stuart Hamilton / Castlesound Studios who have been nominated in Studio Engineer of the Year, Studio of the Year in the MG ALBA Scots Trad Music Industry Awards 2019. Vote now!
We asked Stuart Hamilton of Castlesound Studios the following questions.
Tell us about yourself
Castlesound was started in 1974 by Calum Malcolm, in the centre of Edinburgh – hence the name! The studio moved to it's better-known home in Pencaitland in 1978 and has grown steadily since.
Why are you involved in Scottish music?
I've been around recording equipment for as long as I can remember. My Grandpa has a house full of old valve tape machines (I still have no idea why!), and I remember being very young and playing around with them. Probably breaking them in the process…
I was obsessed with recording music as a teenager, locked away for hours with a 4 track cassette machine in my bedroom. When I was 16 I was fortunate enough to work through my school summer holidays in a studio called Hart Street, after which owner Roy Ashby offered me a job as an assistant. It was there that I had my first introductions to folk music, including my first album credit on "Not The Bunny Hop" by Ceolbeg, produced by Phil Cunningham.
After a couple of years I moved to REL Studios, where I was able to work with artists like Big Country and Van Morrison. Very much in at the deep end and instantly realised that I had an awful lot to learn!
Fast forward a few years, I came to work at Castlesound and it became my home. I never dreamed then that I'd eventually own the studio and still be able to do the job I love 30 years later. Actually, make that 31… (I'm old!)
Any particular career highlights?
I like to think of whatever project I'm currently involved in as a career highlight and hopefully give it everything I possible can.
However, there was an amazing time in the early 90's when I was working with acts like Shooglenifty, Mouth Music and Martyn Bennett – artists based in Trad music who were exploring new technologies and were unafraid to mix cultural and musical forms. A lot of what they did has become very normal now, but it all felt very new and really exciting at the time.
What are your plans for the future?
Well, breaking news in that we have a Steinway grand piano arriving at the studio in the next week. It's an exceptional instrument and I'd like to hope that it will be considered a real asset to recording in Scotland. Next year will also see more producers having a base at the studio, which is something I'm very keen to develop.
And on a personal level, I'd quite like a holiday at some point soon before my kids are all grown up!
Read more about Stuart Hamilton / Castlesound Studios
http://www.castlesound.co.uk
Facebook: https://www.facebook.com/castlesound/
The results of the MG ALBA Scots Trad Music Industry Awards will be announced the week of 2nd December online at http://www.scotstradmusicawards.com.
If you wish to attend the final ceremony, tickets are are priced £25 (+ Booking Fee), and Concessions are available. To book please call Aberdeen Music Hall Box Office on 01224 641122, or visit: https://www.aberdeenperformingarts.com/whats-on/all-shows/the-mg-alba-scots-trad-music-awards/2734. Bands performing on Saturday 7th December include Skerryvore, Session A9, Benedict Morris (BBC Radio Scotland Young Traditional Musician Award Winner 2019), Heisk, Aberdeenshire Youth Band, Sian, Robyn Stapleton, Mairi Campbell and the Pendulum Band, Susan MacFadyen Scottish Dance Band and more to be announced. There will also be a late night ceilidh after the Awards till 1am.
If you would like to support Hands Up for Trad in their work with Scottish trad music and musicians please consider supporting our Patreon campaign. We have 3 tiers starting at $1 a month and everything helps support us in our work. Read more at www.patreon.com/handsupfortrad