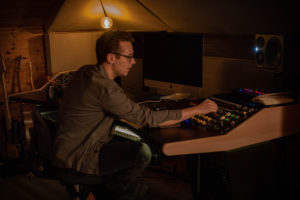 Congratulations to Scott Wood who has been nominated in Studio Engineer of the Year in the MG ALBA Scots Trad Music Industry Awards 2019. Vote now!
We asked Scott Wood the following questions.
Tell us about yourself
Hello! I am a Recording, Mixing and Mastering Engineer/Producer working out of Oak Ridge Studios in Bishopbriggs, Glasgow – a quirky recording studio built within my home. I've been recording for 4 years now, and now starting to feel settled in the job. Performing music is my first love, but to be honest, Producing/Engineering music really feels like where my heart is right now. It's my favourite hobby . . . that's just been taken a bit too far!
Why are you involved in Scottish music?
I'm primarily a performing musician on Pipes, Whistles & Flute and that's the road that lead me to studio engineering. When I first stepped in a studio, it just felt so right. I was fascinated with the 'wizardry' of what the engineer would be doing and all the gear, and just wanted to have that control of crafting the sounds.
In 2015, I went to Michigan to mix my band's record with Tyler Duncan. It was a life changing experience to witness what his setup in the basement of his home, and the sounds he was managing to achieve. I got back to Scotland and started building up a studio in my parents house, and taught myself how to make my own records. Somehow, people seemed to like what I was doing and wanted to record with me, and I have now fallen into this career by complete accident!
Any particular career highlights?
When recording music, the highlights for me come in the moments of pure joy with an artist when everyone on the room is on that same high about the music and just enthused with life. There's not many things in life that can beat that creative studio feeling for me!
Some of my recent recording projects have included the brilliant artists:
Anxo Lorenzo, Assynt, Celtic Worship,
Ceol An Aire, David Foley & Jack Smedley, Eabhal, James Haper, Josie Duncan & Pablo Lafuente, Project SMOK, Rachel Hair & Ron Jappy, Rura, Skerryvore & Steph Macleod.
What are your plans for the future?
At 26, I'm still very young in an industry that takes years of experience to learn the trade. I plan to get stuck into working with more incredible artists. I'm very thankful to work in a country with such incredible musical talent, and will take any opportunity to work on good music!
I've built up a pretty incredible collection of studio gear so far, so just want to continue to keep building on that, as well as my own skills of course!
The way my working life has went, I pretty much spend all my time recording other artists, but I hope to one day to make some time to make my own records as well!
Read more about Scott Wood
http://www.scottwoodmusic.com
Facebook: http://www.facebook.com/scottwoodmusic
Twitter: http://www.twitter.com/
Instagram: http://www.instagram.com/scottwoodmusic
The results of the MG ALBA Scots Trad Music Industry Awards will be announced the week of 2nd December online at http://www.scotstradmusicawards.com.
If you wish to attend the final ceremony, tickets are are priced £25 (+ Booking Fee), and Concessions are available. To book please call Aberdeen Music Hall Box Office on 01224 641122, or visit: https://www.aberdeenperformingarts.com/whats-on/all-shows/the-mg-alba-scots-trad-music-awards/2734. Bands performing on Saturday 7th December include Skerryvore, Session A9, Benedict Morris (BBC Radio Scotland Young Traditional Musician Award Winner 2019), Heisk, Aberdeenshire Youth Band, Sian, Robyn Stapleton, Mairi Campbell and the Pendulum Band, Susan MacFadyen Scottish Dance Band and more to be announced. There will also be a late night ceilidh after the Awards till 1am.
If you would like to support Hands Up for Trad in their work with Scottish trad music and musicians please consider supporting our Patreon campaign. We have 3 tiers starting at $1 a month and everything helps support us in our work. Read more at www.patreon.com/handsupfortrad