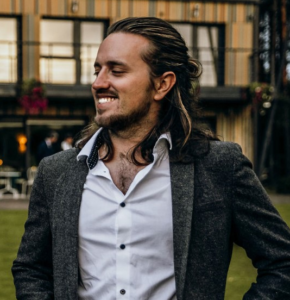 Congratulations to Samuel Hurt who has been nominated in Photographer of the Year in the MG ALBA Scots Trad Music Industry Awards 2019. Vote now!
We asked Samuel Hurt the following questions.
Tell us about yourself
I'm a freelance photographer/ film maker/ content producer-maker-person from the Isle of Man who's been living in Glasgow for about four years now! I'm a huge fan of dogs and collecting Lego.
Since I've been here, I've been almost exclusively working with Trad musicians to create all sorts of visual media like Photos, Promo Videos, Music Videos, Album Covers/ Logos, Documentaries and Gig Coverage.
In short – I love story telling and new challenges (which are in no short supply with some of the mad ideas that musicians have). I've been involved with some pretty wild projects so far and I'm hoping that things on the scene continue to evolve!
Why are you involved in Scottish music?
I've been a musician for the majority of my life, so it was a comfortable segway for me to mix my photography/ film work with music when I first started making visual media early on. Music is the biggest inspiration for all my visual work, particularly videos.
To be entirely truthful however, it's the musicians themselves that keep me inspired. I've never worked with a group of people that are more driven and creative, which makes collaboration natural and exciting.
The frequent pints help a lot too.
Any particular career highlights?
In terms of a "traditional" career highlight, I'd have to say that working with Donald Shaw on his "Scotland's Wild Heart" project was pretty special. I took the footage from the BBC show that Donald had composed the music for, and re edited it to harmonise with a live performance of the score. We then played the gig in Lorient, which was a real "meeting of worlds" for me. Usually, I deliver content and that's that, but with this, I saw it in a live performance along with musicians.
Aside from that, it's too hard to say. At the end of the day, it feels like I'm working with my friends on a daily basis — so it's often hard for me to look at what I do as a "career".
Saying that, I did once film Hamish Napier in a boxing fight with Adam Sutherland…
What are your plans for the future?
Honestly, none. I'm doing what I love on a daily basis and it feels great, so I'll keep with it for now. I've been working around musicians long enough to know that it's wiser not to plan too much…
Read more about Samuel Hurt
http://www.samgjhurt.com
Facebook: http://www.facebook.com/shurtvideo
Twitter: http://www.twitter.com/
Instagram: http://www.instagram.com/samuelgjhurt
The results of the MG ALBA Scots Trad Music Industry Awards will be announced the week of 2nd December online at http://www.scotstradmusicawards.com.
If you wish to attend the final ceremony, tickets are are priced £25 (+ Booking Fee), and Concessions are available. To book please call Aberdeen Music Hall Box Office on 01224 641122, or visit: https://www.aberdeenperformingarts.com/whats-on/all-shows/the-mg-alba-scots-trad-music-awards/2734. Bands performing on Saturday 7th December include Skerryvore, Session A9, Benedict Morris (BBC Radio Scotland Young Traditional Musician Award Winner 2019), Heisk, Aberdeenshire Youth Band, Sian, Robyn Stapleton, Mairi Campbell and the Pendulum Band, Susan MacFadyen Scottish Dance Band and more to be announced. There will also be a late night ceilidh after the Awards till 1am.
If you would like to support Hands Up for Trad in their work with Scottish trad music and musicians please consider supporting our Patreon campaign. We have 3 tiers starting at $1 a month and everything helps support us in our work. Read more at www.patreon.com/handsupfortrad