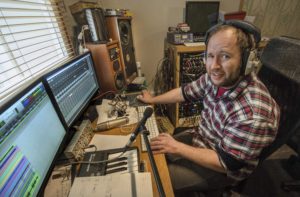 Congratulations to Richard Werner who has been nominated in Studio Engineer of the Year in the MG ALBA Scots Trad Music Industry Awards 2019. Vote now! Vote now!
We asked Richard Werner the following questions.
Tell us about yourself
I've been engineering, producing and playing on recordings at my studio, B&B Studios, for the last 12 years. Previously, I was Assistant Engineer at Pier House Studios, under the aegis of Peter Haigh, from 2000 – 2007.
Why are you involved in Scottish music?
I've been playing music since the age of 5, first piano, and later drums and percussion. I've always had that creative calling, and it was a tough decision choosing between music and art; music won out! Going to study Modern Musicianship at the then Jewel and Esk Valley College was an eye opener for a kid who had been classically trained; I instantly felt at home, and in particular in the recording studios there. This led to a further course in Music and Audio technology, then a few years at Edinburgh Napier University studying Popular Music, whilst concurrently assisting at Pier House. It would almost be easier to not think of it as why I'm involved with music, rather why is music involved with me? It's a calling really, and one that has always been very hard to ignore or defeat as it's been a massive part of my life and lifestyle from a young age.
Any particular career highlights?
My first three months at Pier House Studios were an absolute whirlwind, with the last three instalments of 'The Complete Songs Of Robert Burns', Linn records, being well underway. Little did I know I was meeting and recording some of the greatest folk luminaries of our time, all whilst cutting my teeth! From that little window has spanned a career of nearly 20 years.
Recording The Proclaimer's album demos at least twice at Pier House was also significant, that was very cool.
More recently, at B&B, being the mix engineer for Tannahill Weavers – Òrach was both challenging and rewarding, I'm glad to see it doing so well.
Playing on recordings is always good craic, especially when you are invited to the performances at Celtic Connections! I'm grateful to producer Fred Freeman for his continuing support and patronage, and I was fortunate to record volumes I to IV of the complete songs of Robert Tannahill, and play on some of the songs. Sadly I'm not involved with the last installment as engineer, although I'll be meeting with Fred in the New Year to work on a new and exciting project.
Putting together Scots Radio every month or so is great, and a bit unusual, in that it's the only cyclical job I have, which makes it all the more interesting. It's a fab way for me to get my ear to the ground and hear what's going on out there; it's been a great year for Scottish productions and culture!
I was also delighted this year to see 20Schemes Music's 'Songs From The Schemes' storm up the iTunes album charts and sit next to Queen's Greatest Hits and Michael Bublé for a day! Whilst not a folk / trad album, this really tickled me.
And I'll never forget the ones who have gone I've been so very lucky to record, in particular singers Nick Keir, Jim Reid, Gordeanna McCulloch and Lionel McLelland, and musicians Billy Craib and Iain King.
What are your plans for the future?
As you may know, I have a young apprentice! I'm hoping to have Lewis McLaughlin become my assistant engineer in the coming months. I feel he's picked up an awful lot during his period of observation, and I'm looking forward to training him up to a level where he can run sessions professionally and to an excellent standard using what he's learned so far, whilst also developing and nurturing his own style.
I'm going to create some more home grown tools for the studio; a couple of M49c clones are under development just now, and a wheen of interesting and useful outboard pieces are in the works too.
I also plan to get the mobile recording arm of the studio together, and within the next five years a redevelopment of the studio's main recording room is on the cards, with the booth being removed and the remaining space optimised for greater flexibility.
I'd also really like to teach some more of this stuff, my head is practically bursting with all things studio related I'd like to pass on. Whilst Lewis has been great for me in that department, and continues to be so, I think I'd like to lecture part time on a formal basis at one of our great educational institutions.
Read more about Richard Werner
Facebook: https://www.facebook.com/bassandbrilliance/
Twitter: https://twitter.com/bandbrecording
Instagram: https://www.instagram.com/bandbrecording/
The results of the MG ALBA Scots Trad Music Industry Awards will be announced the week of 2nd December online at http://www.scotstradmusicawards.com.
If you wish to attend the final ceremony, tickets are are priced £25 (+ Booking Fee), and Concessions are available. To book please call Aberdeen Music Hall Box Office on 01224 641122, or visit: https://www.aberdeenperformingarts.com/whats-on/all-shows/the-mg-alba-scots-trad-music-awards/2734. Bands performing on Saturday 7th December include Skerryvore, Session A9, Benedict Morris (BBC Radio Scotland Young Traditional Musician Award Winner 2019), Heisk, Aberdeenshire Youth Band, Sian, Robyn Stapleton, Mairi Campbell and the Pendulum Band, Susan MacFadyen Scottish Dance Band and more to be announced. There will also be a late night ceilidh after the Awards till 1am.
If you would like to support Hands Up for Trad in their work with Scottish trad music and musicians please consider supporting our Patreon campaign. We have 3 tiers starting at $1 a month and everything helps support us in our work. Read more at www.patreon.com/handsupfortrad