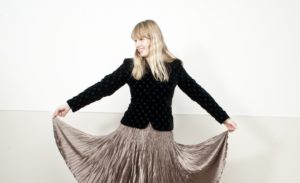 Congratulations to Patsy Reid who has been nominated in Session Recording Musician of the Year in the MG ALBA Scots Trad Music Industry Awards 2019. Vote now!
We asked Patsy Reid the following questions.
Tell us about yourself
I am a fiddler, violinist and viola player and as a professional musician, I do a wide variety of work including live concerts, recording, teaching, production, composition and arranging. I am based in Perth, Scotland and am lucky enough to work with many of Scotlands foremost musicians and composers.
In terms of recording, I've recently done sessions for Mark Knopfler, Flook, Findlay Napier, Ross Ainslie & Ali Hutton, Hamish Napier, Donald Shaw, Duncan Chisholm, Maz O' Connor, Will McNicol, Marc Cafolla, Innes Watson, Duncan Lyall, Elaine Lennon, Laura Donnelly, John Goldie, Will Pound, Skippinnish, Robyn Stapleton and more.
I do quite a lot of arranging and string recording for people at my home studio Stereo Pigeon, as well as live sessions at the likes of Castle Sound (Stuart Hamilton), Gloworm (Andrea Gobbi) Gorbalsound, Caribou Recording (Mattie Foulds), Gran's House (Angus Lyon) and more.
Why are you involved in Scottish music?
It's quite a strange question to ask 20 years in, but I suppose it's because I love music and because I can. I get to play with and be friends with great people. No two days, weeks or months are the same and therefore I love the flexibility it gives me in life.
Any particular career highlights?
It's the 11th November today so I'm reminded of a very momentous performance with Julie Fowlis on the 100th Anniversary of the Battle of the Somme, which was televised live on BBC 1 in 2016. That was an unbelievable day and it was so humbling to be there and see the Thiepval Memorial.
But right now it's all about The Grit Orchestra and I'm currently composing a piece of new music as part of The Declaration (of Arbroath) at the Celtic Connections opening concert 2020. Although I'm in the middle of that and quite frankly, terrified – I'm pretty sure that that evening will be a career highlight of the future!
Slightly off piste, I was particularly chuffed when Mark Knopfler sent me a guitar amp in the post!! I was lucky to play fiddle in his new musical version of Local Hero and thanks to Dave Milligan I was part of the team demo-ing tracks for the show and I got to work closely with Mark and his team at his incredible studio, British Grove in London. I loved every second in that environment and had to stop myself squealing with excitement a lot!! The best part was to see how those guys at the top of the tree work and it was very inspiring to find that they were just really great musicians, lovely people and generous in every way. It really has been a very life affirming experience so far.
On paper though, and I suppose other people get very excited about the fact that I was part of the band at the closing ceremony of the Commonwealth Games, where we performed Caledonia and Auld Lang Syne with Kylie Minogue! It was great fun and a memorable highlight!
And one more – it was very cool that my first time in New York was to play in a sold out Carnegie Hall with Zakir Hussain as part of a sold out 4 week tour of America! Again, I pinched myself at the time and knew that it doesn't get much better then that!
What are your plans for the future?
I've been working hard at my tenor guitar playing and I'd love to play that more as part of my session work, just to keep things interesting! By the age of 36, I know that it's important to keep enough time in the diary to work on my own development as an artist and I have some interesting stuff in the pipeline, including songs!
I've invested quite a lot in recording equipment over the years and I'd love to have a proper space outside of my home, where I could set up more of a permanent studio and teaching space. It is probably a bit of a pipe dream but maybe one day I will achieve it!!
Read more about Patsy Reid
http://www.patsyreid.com
Facebook: http://www.facebook.com/patsy.reid.3
Twitter: http://www.twitter.com/patsyreid
Instagram: http://www.instagram.com/reidyrooree
The results of the MG ALBA Scots Trad Music Industry Awards will be announced the week of 2nd December online at http://www.scotstradmusicawards.com.
If you wish to attend the final ceremony, tickets are are priced £25 (+ Booking Fee), and Concessions are available. To book please call Aberdeen Music Hall Box Office on 01224 641122, or visit: https://www.aberdeenperformingarts.com/whats-on/all-shows/the-mg-alba-scots-trad-music-awards/2734. Bands performing on Saturday 7th December include Skerryvore, Session A9, Benedict Morris (BBC Radio Scotland Young Traditional Musician Award Winner 2019), Heisk, Aberdeenshire Youth Band, Sian, Robyn Stapleton, Mairi Campbell and the Pendulum Band, Susan MacFadyen Scottish Dance Band and more to be announced. There will also be a late night ceilidh after the Awards till 1am.
If you would like to support Hands Up for Trad in their work with Scottish trad music and musicians please consider supporting our Patreon campaign. We have 3 tiers starting at $1 a month and everything helps support us in our work. Read more at www.patreon.com/handsupfortrad