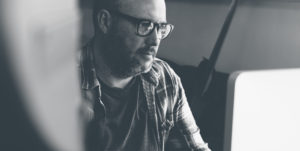 Congratulations to Mattie Foulds who has been nominated in Music Producer of the Year in the MG ALBA Scots Trad Music Industry Awards 2019. Vote now!
We asked Mattie Foulds the following questions.
Tell us about yourself
I am a musician and recording/mix/mastering engineer, but for most I am a Music Producer. My favourite thing to do is help and artist or band make the record they always wanted to make. I am here to support and facilitate artist music on record.
Why are you involved in Scottish music?
I have always been involved in music. Since the age of 12 I have been a musician. It is a massive part of my life and I wouldn't have it any other way. It's all I know how to do after spending the last 35 being so deeply involved. 🙂
Any particular career highlights?
Every record I produce is a joy, a journey and a massive learning experience. My first major record I produced was Karine Polwart's Faultlines, which won a lot of awards, but most importantly gave Karine her inital boost as a solo artist. The Burns Unit too was an amazing project to produce, that many singers and personalities made for a remarkable album. All the records I've made with Rachel Newton, recently, Here's My Heart Come Take It was an amazing, fun and creative project. It was also short listed for the SAY Award. My latest Production credit is one I'm very proud of, just released, Maz O'Connor's Chosen Daughter was a great journey, and probably my best all around work as drummer, engineer, mixer and producer.
What are your plans for the future?
I am currently changing my working process. I am becoming a part of the team at Castlesound. I will be bringing all my tracking sessions there. I am currently building a mix/writing room elsewhere to focus on all my Mix-only clients and writing/arranging music for artists and multi-format production.
Read more about Mattie Foulds
http://www.caribourecording.com
Facebook: http://www.facebook.com/mattiefoulds
Twitter: http://www.twitter.com/mattiefoulds
Instagram: http://www.instagram.com/mattiefoulds
The results of the MG ALBA Scots Trad Music Industry Awards will be announced the week of 2nd December online at http://www.scotstradmusicawards.com.
If you wish to attend the final ceremony, tickets are are priced £25 (+ Booking Fee), and Concessions are available. To book please call Aberdeen Music Hall Box Office on 01224 641122, or visit: https://www.aberdeenperformingarts.com/whats-on/all-shows/the-mg-alba-scots-trad-music-awards/2734. Bands performing on Saturday 7th December include Skerryvore, Session A9, Benedict Morris (BBC Radio Scotland Young Traditional Musician Award Winner 2019), Heisk, Aberdeenshire Youth Band, Sian, Robyn Stapleton, Mairi Campbell and the Pendulum Band, Susan MacFadyen Scottish Dance Band and more to be announced. There will also be a late night ceilidh after the Awards till 1am.
If you would like to support Hands Up for Trad in their work with Scottish trad music and musicians please consider supporting our Patreon campaign. We have 3 tiers starting at $1 a month and everything helps support us in our work. Read more at www.patreon.com/handsupfortrad