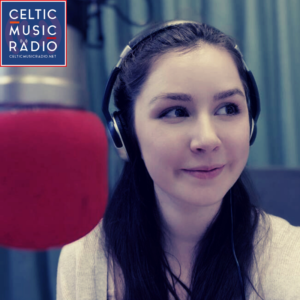 Congratulations to Kirsten Maria Forsyth who has been nominated in Trad Music in the Media in the MG ALBA Scots Trad Music Industry Awards 2019. Vote now!
We asked Kirsten Maria Forsyth the following questions.
Tell us about yourself
Trad Spotlight with Kirsten Forsyth is a weekly show on Celtic Music Radio which promotes folk and traditional music every Thursday from 5-6pm. Previous guests on the show have included Nordic Fiddlers Bloc, Iona Fyfe, Charlie Grey & Joseph Peach, Katie Macfarlane and Pierre Schryer & Adam Dobres.
This show is broadcasted from Celtic Music Radio, which is based in Glasgow and run by volunteers.
Why are you involved in Scottish music?
I have played the fiddle from a young age and I love going to festivals and workshops. I attended Sgoil Chiùil na Gàidhealtachd and Bollnas Folkhogskola in Sweden before studying BA (Hons) Media and Communication at Glasgow Caledonian University. Recording this radio show has been a great way to keep up with all the latest trad music, and to play the music that I love listening to.
Any particular career highlights?
It was great to get recordings from Stonehaven Folk Festival this year, and I've also really enjoyed having live music on the show from Pierre Schryer & Adam Dobres and Kristina Leesik & Chris Gray.
What are your plans for the future?
I've learned a lot since starting the show in March, so I'd love to continue with more interviews and to just keep sharing and promoting traditional music.
Read more about Kirsten Maria Forsyth
http://www.celticmusicradio.net
Facebook: http://www.facebook.com/tradspotlight/
Twitter: http://www.twitter.com/
Instagram: http://www.instagram.com/
The results of the MG ALBA Scots Trad Music Industry Awards will be announced the week of 2nd December online at http://www.scotstradmusicawards.com.
If you wish to attend the final ceremony, tickets are are priced £25 (+ Booking Fee), and Concessions are available. To book please call Aberdeen Music Hall Box Office on 01224 641122, or visit: https://www.aberdeenperformingarts.com/whats-on/all-shows/the-mg-alba-scots-trad-music-awards/2734. Bands performing on Saturday 7th December include Skerryvore, Session A9, Benedict Morris (BBC Radio Scotland Young Traditional Musician Award Winner 2019), Heisk, Aberdeenshire Youth Band, Sian, Robyn Stapleton, Mairi Campbell and the Pendulum Band, Susan MacFadyen Scottish Dance Band and more to be announced. There will also be a late night ceilidh after the Awards till 1am.
If you would like to support Hands Up for Trad in their work with Scottish trad music and musicians please consider supporting our Patreon campaign. We have 3 tiers starting at $1 a month and everything helps support us in our work. Read more at www.patreon.com/handsupfortrad