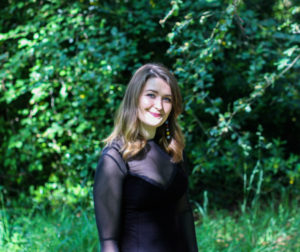 Congratulations to Josie Duncan who HAS been nominated in Best Use of Social Media in the MG ALBA Scots Trad Music Industry Awards 2019. Vote now! Vote now!
We asked Josie Duncan the following questions.
Tell us about yourself
Raised in the musical traditions of the Outer Hebrides, Josie Duncan has long been able to exercise a deep understanding of Scotland's music with her softly strong vocals, enthralling listeners everywhere. Since graduating from the Royal Conservatoire of Scotland, she has performed all over Europe to rapt audiences. Josie was awarded BBC Radio 2's Young Folk Award alongside guitarist Pablo Lafuente.
A diverse performer and a keen collaborator, Josie can also regularly be seen performing with INYAL, a five piece innovative outfit pairing Gaelic music with the music of Glasgows underground Scene
Why are you involved in Scottish music?
I was very lucky to grow up in a community full of music. From a young age I was able to immerse myself in music which provided a very fun and rewarding outlet, and still does to this day. As an Islander, moving to the big city was a daunting thought but Glasgow's vibrant music scene made the experience so exciting and fulfilling. I studied at the RCS alongside Fiona Hunter, Ishbel T. MacDonald, Rod Paterson, Margaret Bennet and more who were hugely encouraging and kind. Music and song has remained my passion to this day and I am grateful for all of the help I've had along the way.
Any particular career highlights?
Playing at Proms in the Park was very exciting. Like wise has been having the chance to sing at some of my favourite festivals this year such as Heb Celt, Cambridge Folk Festival and and Tönder.
What are your plans for the future?
To me it seems extraordinarily lucky and mad that I am able to travel to new places and sing songs as my job. I plan to keep singing and encouraging others to sing, and I hope to enjoy it always as much as I do now!
Read more about Josie Duncan
https://www.josieduncanmusic.com/
Facebook: http://www.facebook.com/josiduncanmusic
Twitter: http://www.twitter.com/josieduncansong
Instagram: http://www.instagram.com/josieduncansong
The results of the MG ALBA Scots Trad Music Industry Awards will be announced the week of 2nd December online at http://www.scotstradmusicawards.com.
If you wish to attend the final ceremony, tickets are are priced £25 (+ Booking Fee), and Concessions are available. To book please call Aberdeen Music Hall Box Office on 01224 641122, or visit: https://www.aberdeenperformingarts.com/whats-on/all-shows/the-mg-alba-scots-trad-music-awards/2734. Bands performing on Saturday 7th December include Skerryvore, Session A9, Benedict Morris (BBC Radio Scotland Young Traditional Musician Award Winner 2019), Heisk, Aberdeenshire Youth Band, Sian, Robyn Stapleton, Mairi Campbell and the Pendulum Band, Susan MacFadyen Scottish Dance Band and more to be announced. There will also be a late night ceilidh after the Awards till 1am.
If you would like to support Hands Up for Trad in their work with Scottish trad music and musicians please consider supporting our Patreon campaign. We have 3 tiers starting at $1 a month and everything helps support us in our work. Read more at www.patreon.com/handsupfortrad