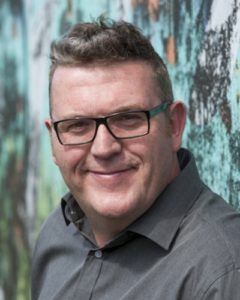 Congratulations to Jim Sutherland who has been nominated in Music Producer of the Year in the MG ALBA Scots Trad Music Industry Awards 2019. Vote now!
We asked Jim Sutherland the following questions.
Tell us about yourself
Jim, a founder member of the Easy Club with whom he played bodhran and cittern, has been an musician, composer and music producer throughout his professional life.
Historically: He produced such albums as-
Hamish Henderson – "Pipes, Goatskins & Bones"
Cathy Anne McPhee – "Chi mi 'n Geamhradh" and "The songs of Mairi Mhor"
Gordon Duncan – "Circular Breath" and "Just for Seamus"
Shooglenifty – "Whisky Kiss", "Venus in Tweeds" and "Solar Shears"
Salsa Celtica – "El Agua De La Vida" and "The Great Scottish Latin Adventure"
Alyth McCormack – "An Lomal"
Aberfeldy – "Young Forever"
He also produced albums of The Whistle Binkies, Alyth McCormack, Nusa, Shine and many others in the traditional music world,
Curently:
Jim works internationally out of his studio in north east Fife in Scotland to deliver consistently high quality music that crosses continents and defies genre. Alongside his extensive work for film and TV, he creates large scale arts events and collaborates with some of the world's top music artists. Jim also works on small bespoke projects and has and strong personal interest in encouraging new and emerging artists and working across artistic disciplines. A polymath at heart.
Recent highlights include:
• Composed and produced station idents and continuity music for BBC ALBA TV channel – 7 themed pieces each formatted in 5 different lengths (2019)
• Co-wrote and produced two tracks along with Orwell prize winning author and rapper Darren (LOKI) Mcgarvey for multi award winning feature doc Schemebirds.(2019)
• Composed and produced 40 pieces of diegetic (on camera) music, including four choral pieces, for Netflix movie Outlaw King (2018) by Oscar nominated director David Mackenzie. The project involved producing and directing 120 musicians from the UK, Sweden, Norway, Netherlands and Spain.
• Produced SANS album (Finnish language) which won Etno category of Finland's Emmas (2018)
• Premiered three new commissions with his 36 piece European orchestra LA BANDA EUROPA at Celtic Connections festival in January (2017). These performances marked 10 years of the band which Jim put together in 2007.
• Produced an album of Eliza Carthy and the Wayward band's BIG MACHINE which entered the UK album charts at number 26 in February (2017) to rave reviews in the press.
• Produced two songs for the OSCAR winning Disney/Pixar film BRAVE and worked on a variety of other film and TV commissions including Salmon Fishing in the Yemen and What We Did on Our holiday. Documentary scores include HAMISH the movie.
• Produced two tracks for acclaimed Scottish Rapper Loki for his album Trigger Warning.
• Composed 20 songs for CBBC Pet Problem Solvers with director Annie Griffin.
• Delivered commissions that celebrated Marseilles as European Capital of Culture 2013 and Derry as UK city of Culture 2013.
• He was awarded Composer of the Year at the Trad awards 2014 for his work on Struileag: a massive international Gaelic diaspora project which spawned a book, a CD and an internationally streamed show at the Commonwealth games in Glasgow.
• In 1998 he was awarded Gold and Platinum discs in the UK, USA and Canada for his collaboration with Jimmy Page and Robert Plant.
Jim has performed and recorded with: Mumford and Sons, Jimmy Page and Robert Plant, Jack Bruce, Emmy Lou Harris, Billy Bragg, Shotts and Dykehead pipe band, The Chieftains, The Bundhu Boys, Ali Farka Toure, Carlos Arredondo and many others.
Why are you involved in Scottish music?
I just can't help myself. Music is the planet live on.
Any particular career highlights?
I love exploration but my true love remains traditional music which has enriched my life and driven much my work as a composer.
I will never forget working with the great Hamish Henderson who influenced my thinking in so many ways, or Gordon Duncan who's legacy lives on through the playing and writing of countless pipers around the world. Two very different individuals, they are sadly no longer but both have left their mark with us and I'd particularly like to celebrate them.
What are your plans for the future?
I am developing ideas for a new piece of music relating to my home county of Caithness, beyond the highlands. The piece will mix traditional musicians with classical and Jazz musicians. I will be working with a dry stone dyker to develop an instrument made from the very bedrock of the county.
I'm also developing ideas with rapper and author, Darren (Loki) McGarvey for a musical. Aside from these great challenges I plan to write some new pipe tunes!
Read more about Jim Sutherland
http://jimsutherland.uk.com
Facebook: http://www.facebook.com/
Twitter: http://www.twitter.com/
Instagram: http://www.instagram.com/
The results of the MG ALBA Scots Trad Music Industry Awards will be announced the week of 2nd December online at http://www.scotstradmusicawards.com.
If you wish to attend the final ceremony, tickets are are priced £25 (+ Booking Fee), and Concessions are available. To book please call Aberdeen Music Hall Box Office on 01224 641122, or visit: https://www.aberdeenperformingarts.com/whats-on/all-shows/the-mg-alba-scots-trad-music-awards/2734. Bands performing on Saturday 7th December include Skerryvore, Session A9, Benedict Morris (BBC Radio Scotland Young Traditional Musician Award Winner 2019), Heisk, Aberdeenshire Youth Band, Sian, Robyn Stapleton, Mairi Campbell and the Pendulum Band, Susan MacFadyen Scottish Dance Band and more to be announced. There will also be a late night ceilidh after the Awards till 1am.
If you would like to support Hands Up for Trad in their work with Scottish trad music and musicians please consider supporting our Patreon campaign. We have 3 tiers starting at $1 a month and everything helps support us in our work. Read more at www.patreon.com/handsupfortrad