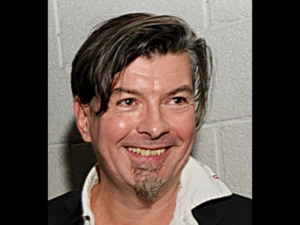 Congratulations to James Mackintosh who has been nominated in Session Recording Musician of the Year in the MG ALBA Scots Trad Music Industry Awards 2019. Vote now!
We asked James Mackintosh the following questions.
Tell us about yourself
I was inspired to become a drummer in my early teens, on a visit to Edinburgh.On my return to the Highlands I broke a wooden close hanger in two and began to beat anything within striking distance along to my favourite albums by the Clash and the Sex Pistols.By the time I left Edinburgh College of Art in 1986 I was playing in various bands and sessions around Edinburgh, and had decided music would be my career.The Cajun Punk of Swamptrash led to a jam in Dublin with the Waterboys, the Gaelic techno of Mouth Music and some eye opening tours of the US , Europe and Asia.Lifelong friendships were forged with Capercaillie, who I toured and recorded with throughout the early 1990's,and more recently too, working with such brilliant producers as Donal Lunny and Calum Malcolm.My band Shooglenifty grew out of a late night session in Edinburgh's Grassmarket, and this year we're about to record our 9th studio album,and celebrate our 30th anniversary in 2020.
Over the years I've recorded with scores, if not hundreds of brilliant artists,and fell very fortunate to be a part of such a vibrant and supportive community as the Scottish music scene.
As well as numerous albums with Mouth Music, Capercaillie, and Shooglenifty, I've recorded several albums with Michael McGoldrick, Karen Matheson, James Grant, Ross Ainslie, The String Sisters, Kate Rusby, Karan Kasey, Siobhan Miller, Ewan Henderson, Phil Cunningham, Heidi Talbot, John Mckusker, Tejedor, Duncan Chisholm, Solas, and many others.
During my sessions with the Transatlantic Sessions I've worked with , amongst others, Roseanne Cash, Dirk Powell, Tim O'Brien, Ali Bain, Jerry Douglas, James Taylor and Alison Krauss..a far cry from busking on Princess St with a pair of sticks and a bread board.
As co ordinator of Sound Cycle, www.soundcycle.org.uk the Borders Youth Music Forum, I organise concerts, workshops, and mentor young musicians through their first experiences of the recording studio.We are about to release our third album of New Music From Across the Borders.Having come from a rural background I know how valuable these opportunities are to young musicians from similar backgrounds.
Why are you involved in Scottish music?
I'm involved in music due to a moment in my teens when I was inspired enough to take up drumming,and the doors that playing music opened seemed far more exiting than any alternative career path at the time.On leaving College I soon became a very busy touring musician, working with some brilliant and inspiring colleagues and producers.Playing Womad and other festivals around the globe further opened my eyes to the incredible richness of music and rhythm and once you've had the buzz of playing to an ecstatic festival audience it's very hard to lose that bug.
I love the creative and collaborative process, and helping bring a musicians song or tune to fruition in the recording studio is extremely rewarding, there are so many paths and approaches, and there is always something new to learn, and friendships made.On a basic level though, playing music with and for others is simply good for the soul, for audience and performer alike.
Any particular career highlights?
Touching the head of Professor Longhair in Tipitinas Night Club New Orleans must have brought good luck as there are oo many to recall..the audience reaction to an early Shooglenifty concert in Port Fairy Folk Festival Australia, I thought the roof was going to come off..Playing "Carolina on My Mind " with James Taylor,onstage in Carolina ( his first time )..Recording Written In Water in Rajasthan with Shooglenifty was extraordinary..Playing with the Grit Orchestra on our first night at Celtic Connections..so good to play Martyn's music live..A Stage invasion in Sydney Opera House..Festivals in Borneo, Adelaide, Singapore, India,and All over Europe..playing in the Kremlin was pretty special..being given a ceremonial greeting at the Marai in Auckland..witnessing so many incredible performances by so many artists from around the world.
What are your plans for the future?
Shooglenifty are soon recording our 9th Studia album,on home turf up at Watercolour Studios .We recently had the luxury of playing our new material in on a fantastic tour of New Zealand, so we're pretty excited to get it recorded.
Soon afterwards I'll be recording with Dirk Powell, Micheal McGoldrick and Donald Shaw, to complete a project we began a couple of years ago at Dirk's home studio in Lafayette, Louisiana.
I'll also be releasing the 3rd Sound Cycle Album, and looking forward to some great gigs at Celtic Connections in January,particularly Mike Mcgoldrick's Fused revisited gig..then the Transatlantic Sessions Tour, and perhaps then a wee rest.
Read more about James Mackintosh
http://www.shoogle.com
Facebook: http://www.facebook.com/m.me/jamesmackintosh.585
Twitter: http://www.twitter.com/@sonofthechief2
Instagram: http://www.instagram.com/jamesssola
The results of the MG ALBA Scots Trad Music Industry Awards will be announced the week of 2nd December online at http://www.scotstradmusicawards.com.
If you wish to attend the final ceremony, tickets are are priced £25 (+ Booking Fee), and Concessions are available. To book please call Aberdeen Music Hall Box Office on 01224 641122, or visit: https://www.aberdeenperformingarts.com/whats-on/all-shows/the-mg-alba-scots-trad-music-awards/2734. Bands performing on Saturday 7th December include Skerryvore, Session A9, Benedict Morris (BBC Radio Scotland Young Traditional Musician Award Winner 2019), Heisk, Aberdeenshire Youth Band, Sian, Robyn Stapleton, Mairi Campbell and the Pendulum Band, Susan MacFadyen Scottish Dance Band and more to be announced. There will also be a late night ceilidh after the Awards till 1am.
If you would like to support Hands Up for Trad in their work with Scottish trad music and musicians please consider supporting our Patreon campaign. We have 3 tiers starting at $1 a month and everything helps support us in our work. Read more at www.patreon.com/handsupfortrad