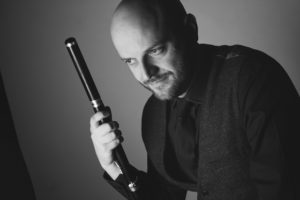 Congratulations to Hamish Napier who has been nominated in Session Recording Musician of the Year in the MG ALBA Scots Trad Music Industry Awards 2019. Vote now! Vote now!
We asked Hamish Napier the following questions.
Tell us about yourself
I am a multi-instrumentalist, folk musician, composer, music producer and music tutor from from Strathspey in the Scottish Highlands. I've played on over 40 folk albums in the last 16 years – and over 10 in the last 2 years (with Duncan Chisholm, Ross Ainslie, Jarlath Henderson, Adam Sutherland, Gary Innes, Mike Vass and others).
I play flutes, whistles, piano and sing. I have been fortunate to make a living the last 16 years as a full-time Scottish folk musician and tutor, doing what I love: playing for ceilidh dances through Scotland, teaching music to people of all ages at home and abroad (including at the academic level at the Royal Conservatoire of Scotland for 8 years) and performing alongside many of Scotland's finest musicians in large venues throughout the UK, Europe and North America.
Why are you involved in Scottish music?
My mother and brother are both singers. I've been singing since before I can remember.
It's been a dream of mine to be a professional musician. It's not come easily and I've had to work very hard at it.
The best thing about playing folk music are the people you meet, the friendship you develop and the energy, improvisation and spontaneity of the music itself. The history and folklore of the music has such depth and beauty – it means so much to so many people throughout the country. I hope that I can contribute to the tradition in some way.
Any particular career highlights?
Co-writing music with Duncan Chisholm for his beautiful album 'Sandwood' (Scots Trad Music Awards 'Album of the Year' 2018). The launch in the last night of Celtic Connections in the 11-piece band in the RSNO room of Glasgow Royal Concert Hall was epic – I'll never forget it. Performing with Duncan's band this last year or so is certainly one of the most enjoyable and amazing experiences of my musical career.
Launching my albums The River and The Railway at Celtic Connections 2016 and Piping Live 2018, resepctively.
Presenting BBC Radio Scotland's Travelling folk one week, and also doing a Music Theory lecture on the show.
Singing 'Ye Cannae Shove Yer Grannie off a Bus' dressed as twin Uncle Sean (or was I Sven?) with my brother Findlay on Katie Morag (BBC children's show, 'The Grand Concert' episode). Well worth a look for a good laugh folks!
Touring the USA with folk band Back of the Moon and later with Jarlath Henderson Trio.
Co-arranging with Jarlath Henderson and his ace quintet for his epic album 'Hearts Broken, heads Turned' (nominated for SAY-Award 2016)
Playing with Nae Plans (my duo with Adam Sutherland) at Celtic Colors festival in Cape Breton, Nova Scotia in 2015.
What are your plans for the future?
At the moment I'm on a 10 year journey to create 5 albums, a pentalogy, of completely original folk music composed about my local area, Strathspey, in the Scottish Highlands.
I'm half way there.
Each of the 5 albums represents one of the five internationally recognised 'elementals': Water, Fire, Earth, Wind and Ether. These elementals appear across dozens of cultures, religions and societies worldwide. I want to celebrate and share with the world the natural beauty of my native land and community.
I started the project when I was 33. 3 years later the first 2 albums are complete: THE RIVER (representing the element water) about the glorious River Spey in 2016 and THE RAILWAY (representing fire) for the famous Speyside Whisky railway line, in 2018. THE WOODS (symbolising earth), the 3rd will be finished in a few weeks, to be released in Spring 2020.
I hope to finish the penology by the time I'm in my early 40s.
I have composed over a dozen tunes already for THE HILL (air), that will focus on the mighty Cairngorm Mountain range.
Eventually I'll write the final album THE SKY (for the aether) for the vast world above our heads: clouds, the constellations and planets in the night sky, astronomical and celestial effects on Strathspey's local wildlife and culture, in particular the changing seasons, weather and pull of the moon.
This is no small task. It requires a significant amount of time (and budget!) to create.
It is my dream to become a full-time folk composer – but it seems I have no choice as it's what I spend most of my time doing anyway!
Read more about Hamish Napier
http://www.hamishnapier.com
Facebook: https://www.facebook.com/hamishnapiermusic/
Twitter: http://www.twitter.com/NapierHamish
Instagram: https://www.instagram.com/hamishgrantnapier/
The results of the MG ALBA Scots Trad Music Industry Awards will be announced the week of 2nd December online at http://www.scotstradmusicawards.com.
If you wish to attend the final ceremony, tickets are are priced £25 (+ Booking Fee), and Concessions are available. To book please call Aberdeen Music Hall Box Office on 01224 641122, or visit: https://www.aberdeenperformingarts.com/whats-on/all-shows/the-mg-alba-scots-trad-music-awards/2734. Bands performing on Saturday 7th December include Skerryvore, Session A9, Benedict Morris (BBC Radio Scotland Young Traditional Musician Award Winner 2019), Heisk, Aberdeenshire Youth Band, Sian, Robyn Stapleton, Mairi Campbell and the Pendulum Band, Susan MacFadyen Scottish Dance Band and more to be announced. There will also be a late night ceilidh after the Awards till 1am.
If you would like to support Hands Up for Trad in their work with Scottish trad music and musicians please consider supporting our Patreon campaign. We have 3 tiers starting at $1 a month and everything helps support us in our work. Read more at www.patreon.com/handsupfortrad