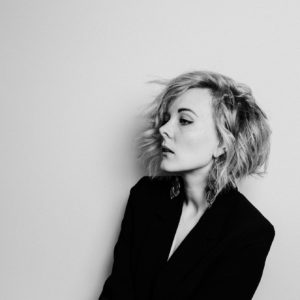 Congratulations to Elly Lucas who has been nominated in Photographer of the Year, Graphic Designer of the Year in the MG ALBA Scots Trad Music Industry Awards 2019. Vote now!
We asked Elly Lucas the following questions.
Tell us about yourself
Hello! My name's Elly. I'm a freelance photographer / designer / occasional musician and I'm hugely fortunate to have spent the last decade-and-a-bit working on the folk/trad scene in all three capacities. I specialise in portraiture, but my love of photography grew from a fascination with texture and tiny details, from nature and finding beauty in strange places – something which I hope comes across in my work.
Why are you involved in Scottish music?
Because I adore it. Music has introduced me to so many incredible people; it has encouraged me to travel, to keep learning and to listen more carefully – and it's helped me to work through a thing or two, too. The community around the folk/trad scene is an amazing thing that I'm immensely grateful to be part of; I played and sang on the folk circuit before I started photographing it and working on the design side of things more seriously, and I'm overjoyed that the three creative elements worked so neatly together and brought me here.
Any particular career highlights?
I'm mighty lucky to have a fair few things I'd consider highlights! I've worked with my musical heroes, travelled to all sorts of interesting places and met all manner of fascinating people. Two particularly lovely moments would have to include getting some of my images featured in an exhibition at the Royal Albert Hall (thank you, Songlines Magazine!) and, most recently, working alongside Jackie Morris, Robert Macfarlane and the stellar cast of musicians in the thoroughly magical "Lost Words – Spell Songs" project.
What are your plans for the future?
Keep creating, I hope! Alongside continuing my work as a photographer and designer, I'm hoping to finally start releasing some of the new music I've been working on for the last couple of years and launch a new collaborative project exploring the positive impact of creativity on mental health – something particularly close to my heart. I'd love to run some more photography workshops / do a bit more teaching sometime too!
Read more about Elly Lucas
http://www.ellylucas.co.uk
Facebook: http://www.facebook.com/ellylucasphoto
Twitter: http://www.twitter.com/ellylucas
Instagram: http://www.instagram.com/elly_lucas
The results of the MG ALBA Scots Trad Music Industry Awards will be announced the week of 2nd December online at http://www.scotstradmusicawards.com.
If you wish to attend the final ceremony, tickets are are priced £25 (+ Booking Fee), and Concessions are available. To book please call Aberdeen Music Hall Box Office on 01224 641122, or visit: https://www.aberdeenperformingarts.com/whats-on/all-shows/the-mg-alba-scots-trad-music-awards/2734. Bands performing on Saturday 7th December include Skerryvore, Session A9, Benedict Morris (BBC Radio Scotland Young Traditional Musician Award Winner 2019), Heisk, Aberdeenshire Youth Band, Sian, Robyn Stapleton, Mairi Campbell and the Pendulum Band, Susan MacFadyen Scottish Dance Band and more to be announced. There will also be a late night ceilidh after the Awards till 1am.
If you would like to support Hands Up for Trad in their work with Scottish trad music and musicians please consider supporting our Patreon campaign. We have 3 tiers starting at $1 a month and everything helps support us in our work. Read more at www.patreon.com/handsupfortrad