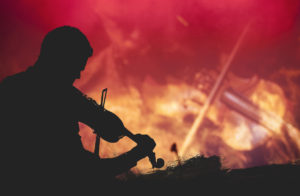 Congratulations to Craig Espie a.k.a ANGRY FIDDLER who have been nominated in Graphic Designer of the Year in the MG ALBA Scots Trad Music Industry Awards 2019. Vote now!
We asked Craig Espie of Craig Espie a.k.a ANGRY FIDDLER the following questions.
Tell us about yourself
I'm probably best known as the fiddle player with Skerryvore, but over the past 10 years or so i've also been working behind the scenes in a design role. Initially just for my own band, i've gradually built up a portfolio of work for many of the artists on the Trad. scene and have provided designs for album artwork & promotional materials, to websites & animations for acts such as Trail West, Rura, Talisk, Mànran, Imàr, Red Hot Chilli Pipers, and Jenna Reid.
I am also the head of branding & design for both Tiree Music Festival and Oban Live, amongst other work.
Why are you involved in Scottish music?
After quitting a degree in product design engineering to become a musician, frustrated at the lack of 'design' in my course vs engineering, and inspired by a trip to Cambridge Folk Festival, it's great that i'm now able to pursue both of my passions at the same time.
Any particular career highlights?
It would be hard to single out a specific highlight. I generally just love to create works that engage with people and are enjoyable to look at or browse, along with the challenge of correctly portraying a 'brand' at the same time.
What are your plans for the future?
To keep being creative………both on an off the stage. I love the challenge and opportunities of each job as it comes along and always look forward to creating new designs.
Read more about Craig Espie a.k.a ANGRY FIDDLER
Facebook: http://www.facebook.com/
Twitter: http://www.twitter.com/
Instagram: http://www.instagram.com/
The results of the MG ALBA Scots Trad Music Industry Awards will be announced the week of 2nd December online at http://www.scotstradmusicawards.com.
If you wish to attend the final ceremony, tickets are are priced £25 (+ Booking Fee), and Concessions are available. To book please call Aberdeen Music Hall Box Office on 01224 641122, or visit: https://www.aberdeenperformingarts.com/whats-on/all-shows/the-mg-alba-scots-trad-music-awards/2734. Bands performing on Saturday 7th December include Skerryvore, Session A9, Benedict Morris (BBC Radio Scotland Young Traditional Musician Award Winner 2019), Heisk, Aberdeenshire Youth Band, Sian, Robyn Stapleton, Mairi Campbell and the Pendulum Band, Susan MacFadyen Scottish Dance Band and more to be announced. There will also be a late night ceilidh after the Awards till 1am.
If you would like to support Hands Up for Trad in their work with Scottish trad music and musicians please consider supporting our Patreon campaign. We have 3 tiers starting at $1 a month and everything helps support us in our work. Read more at www.patreon.com/handsupfortrad