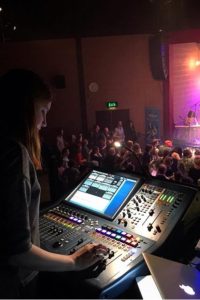 Congratulations to Carla Feuerstein who has been nominated in Live Sound Engineer of the Year in the MG ALBA Scots Trad Music Industry Awards 2019. Vote now!
We asked Carla Feuerstein the following questions.
Tell us about yourself
I have been working as a sound engineer since I moved to Scotland from Germany about 7 years ago. I am based in Glasgow and work closely with some very exciting bands in the folk scene such as HEISK and The Paul McKenna Band. Glasgow is an amazing place to live and work, not just because there are so many great venues and events, but also because it is such a wonderfully welcoming and warm city (not in terms of the weather obviously!). I will be forever grateful for the opportunities I have been given by venues, festivals and sound engineers from all over Scotland. I hope that I will be able to stay in Scotland in the future. Over the past few years I've also had the great pleasure of working with, and learning from, my fellow nominees Dave Town and Tim Matthew!
Why are you involved in Scottish music?
My whole life has revolved around music for as long as I can remember. My dad is a musician, sound engineer and producer and my mum runs a record label. Apart from a brief period of rebellion where I went to university to become a teacher, I always knew I wanted to work in the music industry.
Any particular career highlights?
This year I was asked to become HEISKs very own sound engineer which has been an immense honour! I love being part of this group of talented, glittery and powerful people. We went to Orkney Folk Festival in May, which was great fun!
I was also appointed the Women in Live Music representative for Scotland.
What are your plans for the future?
For 2020, I am planning on creating shadowing and work experience opportunities for young women, people of colour and other minority groups in the live industry. The world of live sound is still dominated by men, and that definitely has to change! I want to encourage more people from different backgrounds to come work at live events.
Read more about Carla Feuerstein
Facebook: http://www.facebook.com/
Twitter: http://www.twitter.com/
Instagram: http://www.instagram.com/carla.on.sound
The results of the MG ALBA Scots Trad Music Industry Awards will be announced the week of 2nd December online at http://www.scotstradmusicawards.com.
If you wish to attend the final ceremony, tickets are are priced £25 (+ Booking Fee), and Concessions are available. To book please call Aberdeen Music Hall Box Office on 01224 641122, or visit: https://www.aberdeenperformingarts.com/whats-on/all-shows/the-mg-alba-scots-trad-music-awards/2734. Bands performing on Saturday 7th December include Skerryvore, Session A9, Benedict Morris (BBC Radio Scotland Young Traditional Musician Award Winner 2019), Heisk, Aberdeenshire Youth Band, Sian, Robyn Stapleton, Mairi Campbell and the Pendulum Band, Susan MacFadyen Scottish Dance Band and more to be announced. There will also be a late night ceilidh after the Awards till 1am.
If you would like to support Hands Up for Trad in their work with Scottish trad music and musicians please consider supporting our Patreon campaign. We have 3 tiers starting at $1 a month and everything helps support us in our work. Read more at www.patreon.com/handsupfortrad