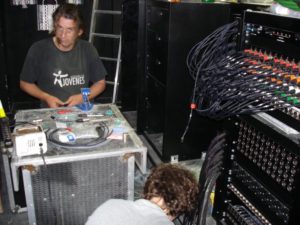 Congratulations to Alan "Dinner" Mackinnon who has been nominated in Live Sound Engineer of the Year in the MG ALBA Scots Trad Music Industry Awards 2019. Vote now! Vote now!
We asked Alan Mackinnon the following questions.
Tell us about yourself
I have worked as a freelance Live Sound engineer for many years in and around the Highlands as well as in Europe and North America. Currently I am the live engineer for Julie Fowlis, Duncan Chisholm, Wolfstone and over the years many other highland and Scottish bands.
Why are you involved in Scottish music?
Since I went to Knebworth to see Led Zeppelin in August 1979 I became involved with bands around Scotland and was constantly irritated by poor sound quality. I decided to sort it out and am still working on that. My father didn't think I had a real job until I did sound for The Alexander Brothers at the British Legion in Inverness. Although I have worked with a wide variety of music, my heart lies with my Hebridean roots and make sure that the musicians I work with are heard in the most honest and sensitive way possible, no matter what the environment may be.
Any particular career highlights?
Many wonderful concerts with Wolfstone, Duncan Chisholms Sandwood and Julie Fowlis and Blazin Fiddles. Frank Black at the Railway Club, Inverness. Ottowas Hogmanay Party.
What are your plans for the future?
Soundcheck at 4 oclock ,don't be late and then everyone will have a very nice time.
Read more about Alan "Dinner" Mackinnon
Facebook: https://www.facebook.com/alan.mackinnon3
Twitter: http://www.twitter.com/@DeNoir1
The results of the MG ALBA Scots Trad Music Industry Awards will be announced the week of 2nd December online at http://www.scotstradmusicawards.com.
If you wish to attend the final ceremony, tickets are are priced £25 (+ Booking Fee), and Concessions are available. To book please call Aberdeen Music Hall Box Office on 01224 641122, or visit: https://www.aberdeenperformingarts.com/whats-on/all-shows/the-mg-alba-scots-trad-music-awards/2734. Bands performing on Saturday 7th December include Skerryvore, Session A9, Benedict Morris (BBC Radio Scotland Young Traditional Musician Award Winner 2019), Heisk, Aberdeenshire Youth Band, Sian, Robyn Stapleton, Mairi Campbell and the Pendulum Band, Susan MacFadyen Scottish Dance Band and more to be announced. There will also be a late night ceilidh after the Awards till 1am.
If you would like to support Hands Up for Trad in their work with Scottish trad music and musicians please consider supporting our Patreon campaign. We have 3 tiers starting at $1 a month and everything helps support us in our work. Read more at www.patreon.com/handsupfortrad