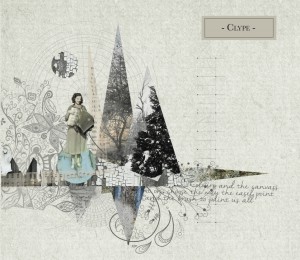 Congratulations to Clype who's album Clype has been nominated in Album of the Year (sponsored by Birnam CD) in the MG ALBA Scots Trad Music Awards 2015. Vote now!
We asked Clype about their album Clype.
The album was written in 2014 and recorded at Studio 1604 in Strathdon, Aberdeenshire. The duo and CD exist thanks to Aberdeen City Council's 'Made in Aberdeen' bursary programme which funded a significant part of the recording and production costs.
The album features 7 original songs and a re-working of the well-known communard anthem The Internationale. The lyrics deal with issues of politics, love, representation and war while the music mixes influences from Scottish folk, Latin American rhythms and jazz.
Since releasing the album in July 2015, Clype has been played on some of the UK's prominent platforms such as The Folk Show on BBC Radio 2, World on 3 on BBC Radio 3, Travelling Folk on BBC Radio Scotland and A World of Music on BBC Ulster. The album was also selected as 'Album of the Month' on Celtic Music Radio, Folk Radio UK, FolkWords and was 'Album of the Week' on BBC Radio Nan Gaidheal and has received high praise from the critics at fRoots Magazine, Folk Radio UK, Bright Young Folk and many others.
We were also very fortunate and honoured to have had an endorsement from the legendary singer-songwriter Richard Thompson. He said of the music,
"I urge you to give a listen to Clype…Simon Gall and Jonny Hardie create music which is eclectic, original, accomplished and challenging."
About Clype
Formed in late 2014 by pianist and singer/songwriter Simon Gall (Salsa Celtica) and featuring fiddler Jonny Hardie (Old Blind Dogs), Clype is a stripped-back experiment in fusing sounds and styles from around the globe. The music borrows from Scottish folk traditions as well as from the rhythms of Latin America and harmonic ideas of jazz.
Listen

Watch
Album Promo – https://www.youtube.com/watch?v=1yLaD8QQLBA
Contact
Email: info@clypemusic.com
Tel: 07738 005 711 (Simon Gall)
For further information including Bio and Press Images
www.clypemusic.com
Find us on
www.facebook.com/clypemusic
www.twitter.com/ClypeMusic
Clype website: http://www.clypemusic.com
You can listen to Clype here.
Buy a ticket for the MG ALBA Scots Trad Music Awards on Saturday 5th December in Dundee Caird Hall, start time 7pm. You'll have a great time!