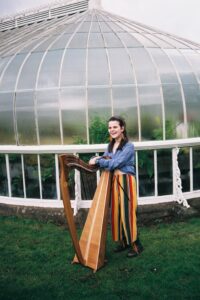 Congratulations to Grace Stewart-Skinner who has been nominated in Original Work of the Year sponsored Musicians' Union in the MG ALBA Scots Trad Music Awards 2023. Vote for Grace Stewart-Skinner now!. It's going to be another great night at the MG ALBA Scots Trad Music Awards on Saturday 2nd December in Dundee's Caird Hall. Why not join us for a brilliant night of music and awards. Buy a ticket here.
We asked Grace of Grace Stewart-Skinner the following questions.
Tell us about yourself
Originally from the Highlands, I am now living and working in Glasgow as a full-time musician. I graduated from Edinburgh University in 2022 where I studied Celtic Studies and is now pursing her musical career full-time. I enjoy being experimental with the clàrsach, pushing my own capabilities and those of the instrument, including using electronic effects pedals to add to my overall sound. However, my knowledge and sensitivity to the tradition has a heavy influence on my playing so my compositions are in the style of Traditional Scottish music, with a contemporary twist. I strive to make meaningful connections through my performances and compositions and hope to challenge some misconceptions that hang around disability and clàrsach music in general.
Why are you involved in Scottish music?
I was brought up surrounded by Traditional music – my mum is a successful Gaelic singer and I was lucky enough to be taken to loads of gigs, festivals and workshops when I was wee. Fèisean also played a huge part in my musical beginnings and I tried out a fair few different instruments before settling on the clàrsach when I was about 8. To begin with, I was defiantly encouraged to play trad by my family but as I got older, it became clear that I wasn't really interested in playing any other kind of music. I feel a connection to trad music and just love how it is growing and diversifying today; it really is music for everyone.
Any particular career highlights?
Being nominated for this award is one of my biggest achievements to date! 'The Rose Window' was a commission for the Spirit 360 project which was designed to celebrate stories of the Highland. This project was my first professional commission and the longest composition I had ever worked on, but hopefully this is the start of more to come.
I was absolutely delighted to be asked to play at the 'New Generation' concert at the Edinburgh International Harp Festival earlier on this year. I have been attending the festival since I was a child and it was a huge source of inspiration to me when I started playing, so this was a very special gig to play.
What are your plans for the future?
I am still very much in the early stages of my career as a performer and composer and am very excited for whatever the future holds. I am currently working on a collaborative project with the ANAM collective and the end results of this will be released early next year. I am also devising my own creative project which will build on my skills in composing with spoken word which I developed through composing 'The Rose Window'. I really hope to continue to grow as an artist and perform in interesting venues in and around Glasgow, and across Scotland.
Grace Stewart-Skinner Social Media
Website: https://gracestewartskinner.co.uk
Facebook: @Grace Stewart-Skinner Clàrsach
Twitter: @
Instagram: @grace_clarsach
YouTube: @gracestewartskinnerclarsach
TikTok: @
The 2023 MG ALBA Scots Trad Music Awards are on the 2nd December 2023! You will be able to watch it live in person (buy a ticket here),Watch it live in the UK at 9pm (GMT) on BBC ALBA and and around the world here. Bands performing on Saturday 2nd December include Peatbog Faeries, Mànran, Karine Polwart and Dave Milligan, Duncan Chisholm Band, Joy Dunlop Band, Aberdeen SC&T Youth and more!
If you would like to support Hands Up for Trad in their work with Scottish trad music and musicians why not become a friend of Hands Up for Trad. In addition to our high profile events like the Scots Trad Music Awards, we also deliver a less well known, education programme for young people from 8yrs right through to young adults at the start of their careers. Read more here.