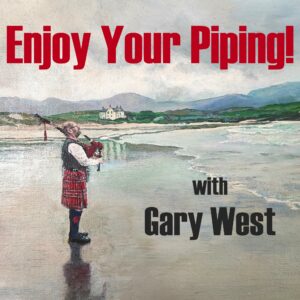 Congratulations to Enjoy Your Piping with Gary West who has been nominated in Trad Music in the Media sponsored by Glasgow Caledonian University in the MG ALBA Scots Trad Music Awards 2023. Vote for Enjoy Your Piping with Gary West now!. It's going to be another great night at the MG ALBA Scots Trad Music Awards on Saturday 2nd December in Dundee's Caird Hall. Why not join us for a brilliant night of music and awards. Buy a ticket here.
We asked Gary of Enjoy Your Piping with Gary West the following questions.
Tell us about yourself
Enjoy Your Piping, which launched in April 2023, is a weekly podcast presented by Gary West which is dedicated to the promotion and celebration of all forms of bagpipe music from Scotland and well beyond. With listeners in 79 countries across the world, it presents interviews, previews, reviews and news, and plays out music from commercial recordings, studio sessions and live events.
Why are you involved in Scottish music?
I have been involved in Scottish music since childhood, and I am now getting quite old! I cannot envisage a time when I won't be involved in some way. Growing up in the pipe band scene, I moved sideways into the wider world of traditional music in my late teens and it's fair to say it has been a core part of my life ever since. As a performer, teacher, academic and broadcaster, Scottish music and its related wider cultural tradition has been my life. I just love it!
Any particular career highlights?
In my teenage years, it was a great thrill to play with the innovative Vale of Atholl Pipe Band, and to be part of a journey that took us from a non-competing local parade band to become one of the top three bands in the world in the space of less than a decade. Joining the folk band Ceolbeg in my late teens, and Clan Alba in my early twenties, was without doubt a career highlight, and I loved touring and recording with these wonderful musicians. We got to play in some fantastic venues and festivals across the world – Glastonbury Festival was probably the most exciting one of all! Joining the staff of the School of Scottish Studies in my late twenties, working alongside such luminaries as Hamish Henderson, was an incredible experience, and the three decades I spent working there taught be so much. Getting to spend 20 years broadcasting on the BBC was also a great privilege, and receiving the honour of being inducted into the Scottish Traditional Music Hall of Fame in 2020 was amazing – I'm still buzzing from that 3 years later! Most recently, seeing my Enjoy Your Piping podcast be received so enthusiastically across the world has been wonderful, as has the support it has received from the piping community and from many people well beyond it.
What are your plans for the future?
I hope to continue to grow the Enjoy Your Piping podcast and to help bring the wonderful music of the bagpipe into even more homes across the world. There are so many stories to be told, so many tunes to be heard, so many great musicians to help showcase – I want you all to Enjoy Your Piping!
Enjoy Your Piping with Gary West Social Media
Website: https://www.garywest.scot/
Facebook: @gary.west.127648
Twitter: @garyjwest
Instagram: @enjoyyourpiping
YouTube: @
TikTok: @
The 2023 MG ALBA Scots Trad Music Awards are on the 2nd December 2023! You will be able to watch it live in person (buy a ticket here),Watch it live in the UK at 9pm (GMT) on BBC ALBA and and around the world here. Bands performing on Saturday 2nd December include Peatbog Faeries, Mànran, Karine Polwart and Dave Milligan, Duncan Chisholm Band, Joy Dunlop Band, Aberdeen SC&T Youth and more!
If you would like to support Hands Up for Trad in their work with Scottish trad music and musicians why not become a friend of Hands Up for Trad. In addition to our high profile events like the Scots Trad Music Awards, we also deliver a less well known, education programme for young people from 8yrs right through to young adults at the start of their careers. Read more here.