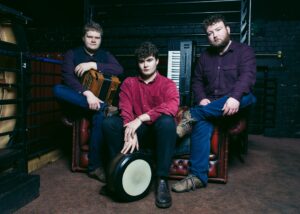 Congratulations to The Canny Band who have been nominated in Up and Coming Artist of the Year sponsored by Royal Conservatoire of Scotland in the MG ALBA Scots Trad Music Awards 2021. Vote here! Vote now!
We asked Michael Biggins of The Canny Band the following questions.
Tell us about yourself
We're a trio based in Glasgow. Our music is rooted in Scottish and Irish traditional music but we take influences from all around the world including genres like classical and jazz.
We play instrumental music which is often co-led by both button accordion and piano.
Sam Mabbett – button accordion
Michael Biggins – piano
Callum Convoy – bodhran
Why are you involved in Scottish music?
We all come from quite different musical backgrounds. Sam was brought up playing traditional English music on the melodeon, Callum has always played Scottish and Irish music and Michael studied as a classical pianist. We all met in Glasgow and enjoyed playing together in sessions, and this led to the band being formed.
Any particular career highlights?
We recently recorded as part of the BBC Alba series 'under canvas'. We've been fortunate enough to be gigging as a band recently despite ongoing covid restrictions and we've just finished recording our long overdue debut album!
What are your plans for the future?
We are releasing our album in February alongside touring to Glasgow, Aberdeen, Newcastle and other cities tbc!
Read more about The Canny Band
The Canny Band Social Media

Facebook: http://www.facebook.com/CannyBand
Twitter: http://www.twitter.com/
Instagram: http://www.instagram.com/thecannyband
http://www.youtube.com/:
http://www.tiktok.com/:
Unfortunately due to Covid there are no tickets for sale to the 2021 MG ALBA Scots Trad Music Awards. You will be able to watch it live in the UK at 7pm (GMT) on BBC ALBA and here. Bands performing on Saturday 4th December include Dàimh, Ìmar, Hannah Rarity, Strathspey Day Band and more to be announced.
If you would like to support Hands Up for Trad in their work with Scottish trad music and musicians please consider supporting our Patreon campaign. We have 3 tiers starting at $1 a month and everything helps support us in our work. Read more at www.patreon.com/handsupfortrad