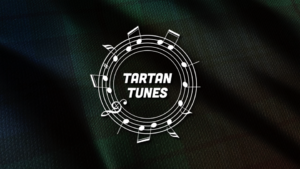 Congratulations to Tartan Tunes who have been nominated in Trad Music in the Media sponsored by Sabhal Mòr Ostaig An in the MG ALBA Scots Trad Music Awards 2021. Vote here! Vote now!
We asked Davie Hunter of Tartan Tunes the following questions.
Tell us about yourself
Tartan Tunes is an online not for profit Scottish Music platform featuring music, stories, history and craic. The weekly live show "Scottish Sessions" includes interviews and performances by both established, and up and coming trad musicians from all over the world.
Tartan Tunes is unique as it has a presenter based in Shetland (Peter Wood) and Dundee (Davie Hunter). The ability to bounce off each other during interviews and stories has brought in viewers from all over the world.
The show has been described as a life line to those who ended up isolating or alone during the height of COVID-19 pandemic. But having that weekly show in their own home has brought smiles to viewers old and young.
As many say we only borrow music but it's also nice to share it.
Why are you involved in Scottish music?
Both Peter and Davie have been involved with traditional music for a number of years. From performances, to composition, and passing on their own knowledge educating other musicians. Since joining forces it has been a wonderful experience. The initial set up and moderating was skilfully lead by Karen Wood allowing the hosts to delivering a weekly visual podcast featuring music and musicians that we both have the utmost respect and admiration for.
Any particular career highlights?
The team has had the privilege of creating a platform with a lasting legacy promoting Scottish music and musicians all over the world.
During the past year we were lucky enough to have the famous Edinburgh accordionist Sandy Brechin on as a guest, he maintained a Swedish accent throughout the hour long episode, we we in hysterics.
What are your plans for the future?
Davie, Peter & Karen are continuing to produce the podcast post pandemic and feel there is a big place for the show in the new normal.
We will always be looking at new ideas to keep the product fresh and in the future hope to take the show on the road to festivals, events and concerts when possible.
Read more about Tartan Tunes
Tartan Tunes Social Media

Facebook: http://www.facebook.com/tartantunes
Twitter: http://www.twitter.com/tartantunes
Instagram: http://www.instagram.com/tartantunes
https://www.youtube.com/channel/UC6zcKMIDnnswBTHQiYVQFhQ:
http://www.tiktok.com/:
Unfortunately due to Covid there are no tickets for sale to the 2021 MG ALBA Scots Trad Music Awards. You will be able to watch it live in the UK at 7pm (GMT) on BBC ALBA and here. Bands performing on Saturday 4th December include Dàimh, Ìmar, Hannah Rarity, Strathspey Day Band and more to be announced.
If you would like to support Hands Up for Trad in their work with Scottish trad music and musicians please consider supporting our Patreon campaign. We have 3 tiers starting at $1 a month and everything helps support us in our work. Read more at www.patreon.com/handsupfortrad