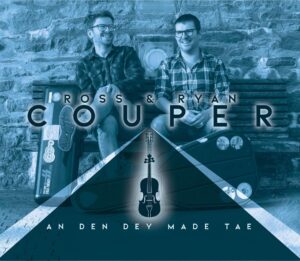 Congratulations to Ross & Ryan Couper who have been nominated in Album of the Year sponsored by Birnam CD in the MG ALBA Scots Trad Music Awards 2021. Vote here! Vote now!
We asked Ross Couper of Ross & Ryan Couper the following questions.
Tell us about yourself
Ross & Ryan Couper are brothers who come from the rich musical heritage of Shetland. They've played together most of their lives and released their debut album in late 2020. Also joining them on the last track is their sister Mariann.
Why are you involved in Scottish music?
We both grew up surrounded by it abs so it was inevitable that we ended up playing Scottish music in some capacity. Ross has gone on to do it professionally and Ryan is very active in the Shetland scene.
Any particular career highlights?
Ross continues to tour nationally and internationally mainly with Peatbog Faeries and Tom Oakes. Highlights would include multiple appearances at Celtic Connections, a tour of Mexico, tours of Australia, Canada and a memorable trip to Ortigueira festival in Spain. Ryan has been a mainstay in the Shetland music scene for years. He also has multiple appearances at Celtic Connections under his belt as well as international festival performances. One career highlight that sticks out is accompanying Martin Taylor at the Celtic Connections Shetland celebration concert a number of years ago.
What are your plans for the future?
We plan to play as part of the Shetland 550 celebrations at Celtic Connections 2022. We also have bookings and enquiries for various festivals throughout the year.
Read more about Ross & Ryan Couper
Ross & Ryan Couper Social Media
http://rosscouper.bandcamp.com
Facebook: http://www.facebook.com/rosscoupershetland
Twitter: http://www.twitter.com/rosscouper
Instagram: http://www.instagram.com/rosscouper1
https://youtube.com/channel/UCjEIGgl-MdRIP4ndcr1fKCw:
http://www.tiktok.com/:
Unfortunately due to Covid there are no tickets for sale to the 2021 MG ALBA Scots Trad Music Awards. You will be able to watch it live in the UK at 7pm (GMT) on BBC ALBA and here. Bands performing on Saturday 4th December include Dàimh, Ìmar, Hannah Rarity, Strathspey Day Band and more to be announced.
If you would like to support Hands Up for Trad in their work with Scottish trad music and musicians please consider supporting our Patreon campaign. We have 3 tiers starting at $1 a month and everything helps support us in our work. Read more at www.patreon.com/handsupfortrad